Johannes Personal Blog Theme for WordPress
Johannes is a multi-concept modern personal blog WordPress theme. It is carefully designed to follow the trends of today's modern web while providing full support for the new WordPress 5 block editor (Gutenberg ready). It is performance-optimized, SEO ready, and highly flexible to match your personal taste, all the way from a modern personal blog for a website author to a news magazine and niche blogging websites.
You will get more than a high-quality personal blog with a simple and clean look you will get many great features that will easily turn you into a WordPress power user. Excited? Say hi to Johannes your new personal blog!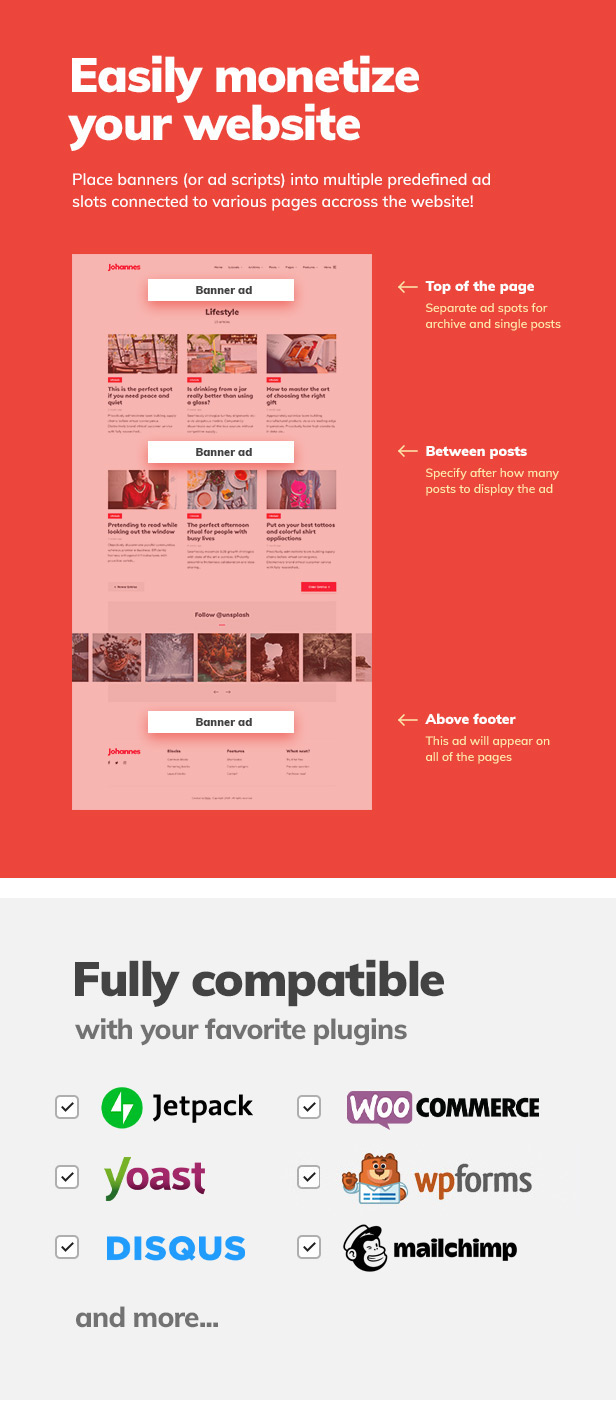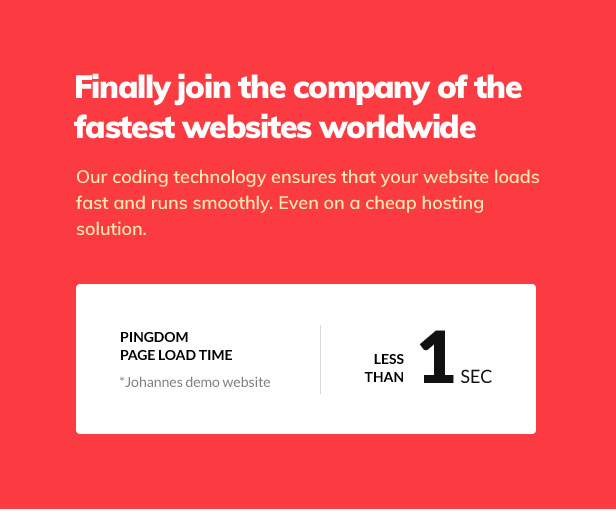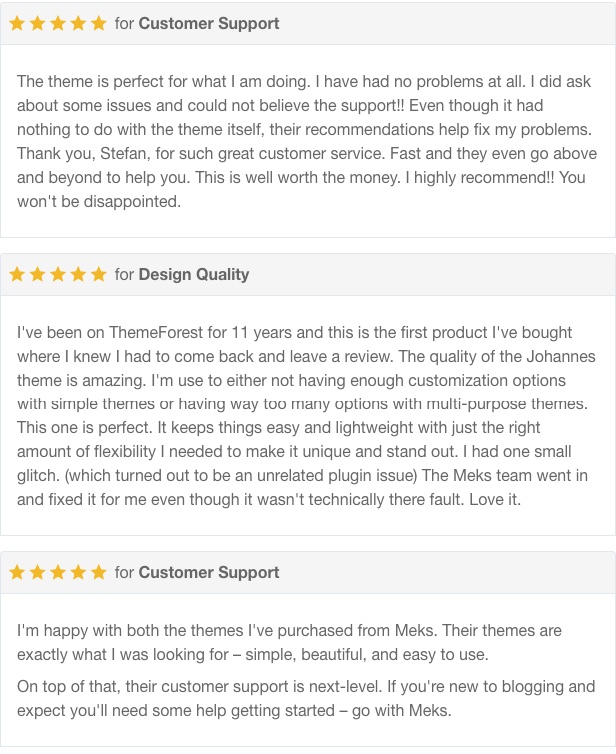 Johannes WordPress blog theme what kind of websites you can create?
It's a multi-concept blogging magazine theme that may suit the needs of any niche. Here's a quick overview of what kind of blog and magazine websites you can create and what our customers are using the Johannes for.
Personal blog

Author blog

Technology news blog

Arts, culture & lifestyle blog

Gaming blog

Finance & crypto blog

Fashion & beauty blog

Science blog

Music blog

Food & nutrition blog

Health & fitness blog

Travel & tourism blog

Diary blog

Movie news blog

Automotive blog

Programmer (coding) tutorial blog

Review and affiliate marketing blog

Multi author blog or magazine

Basically, and kind of creative blog or magazine website!
Change log
1.4.1
Improved: Tested compatibility with WordPress 6.0 (yes, it's safe update your theme)
Fixed: Gallery post format compatibility with WP 5.9+
Fixed: Gallery popup option not working in WP 5.9+
1.4
Improved: WordPress 5.8 compatibility tweaks (yes,you can update your theme)
Improved: Several onpage SEO tweaks (added noopener tag to several target="_blank" attributes)
Fixed: Several minor styling issues
1.3.3
Fixed: Combo layouts on pagination
Fixed: Cart and Checkout page sidebar global option owerride
Fixed: WP 5.7 Gutenberg editor font size problem
1.3.2
Fixed: Instagram Section Styling issues
1.3.1
Improved: WP 5.5 Compatibility tweaks
Fixed: RTL sidebar fix and severals CSS styling issues
1.3
Power Add: Users can pick and add more Custom areas (Theme Options -> Front Page -> General -> Number of custom content sections )
Power Add: Users can display content from desired page inside Custom area (Theme Options -> Front Page -> Custom content -> Pull custom content from )
Power Add: Users can display WooCommerce products on Front Page (Theme Options -> Front Page -> WooCommerce Products )
Added: Two new single post layouts (Theme Options -> Single Post -> Layout 6 & 7)
Added: New featured posts layout (Theme Options -> Front Page -> Featured Posts -> Layout F )
Added: Display content from any Custom Post Type
Added: RankMath breadcrumbs support (Theme Options -> Misc. -> Enable breadcrumbs support -> Rank Math SEO Breadcrumbs )
Added: Support for Post Views counter plugin (WP-PostViews)
Added: Sliders now have autoplay option
Fixed: Sticky header height problem
Fixed: Numeric pagination problem
Fixed: Minor styling issues
1.2
Added: Another Front Page section to display any custom content (Theme Options -> Front Page)
Added: Official support for Co Authors Plus WordPress plugin (for multiple authors on a single post)
Added: Official support for WP Forms WordPress plugin
Added: Options to display last modified date instead of publish date in post meta (Theme Options -> Misc.)
Added: Options to choose multiple stylings for social sharing in the plugin settings in dashboard (Settings -> Meks Easy Social Share)
Added: Options to choose category link as posts meta data element in all layouts (Theme Options -> Post Layouts)
Added: Option to on/off main sticky header on single posts (and have a contextual mini header only)
Added: WhatsApp and Telegram icons in Social Menu
Fixed: Minor styling issues
1.1.3
Great news! Johannes Theme has been awarded the "WP requirements compliance badge" by Envato/ThemeForest, which is a certificate proving that in now meets the highest quality standards in the WordPress ecosystem.
Improved: A slight code refactoring to meet the highest standards per Envato requirements
Improved: Introduced CSS classes inside HTML of front page sections for an easier CSS customization
Fixed: Minor styling issues
1.1.2
Improved: Styling support for Elementor plugin. Now you can use Blank page template and fully customize the page with Elementor as you like.
Fixed: Minor styling issues
1.1.1
Added: Gutenberg optimized styling for new blocks which are introduced in WordPress 5.2
Added: Option to enable/disable Primary category feature from Yoast SEO plugin (Theme Options -> Misc.)
Modified: Options to choose social networks for sharing are now located in the plugin settings in dashboard (Settings -> Meks Easy Social Share)
Fixed: Possibility to use script tags inside ad slots (Theme Options -> Ads)
Fixed: Minor styling issues
1.1
Added: 3 new header layouts which can display an Ad (if provided in ad slots)
Added: Option to disable contextual sticky header bar on single posts (Theme Options -> Header -> Sticky Header)
Added: Option to control overlay opacity (darkness) for specific layouts which have text over images (Theme Options -> Content Styling)
Added: Options to display full content (split with read-more tag) instead of the automatic excerpt for Post Layouts A and B (Theme Options -> Post Layouts A,B)
Added: Options to content width for Post Layouts A and B (Theme Options -> Post Layouts A,B)
Improved: Single post Layouts 1 and 2 now display gallery or video blocks instead of the featured image when video or gallery post format is set to specific post
Fixed: A lot of minor styling issues