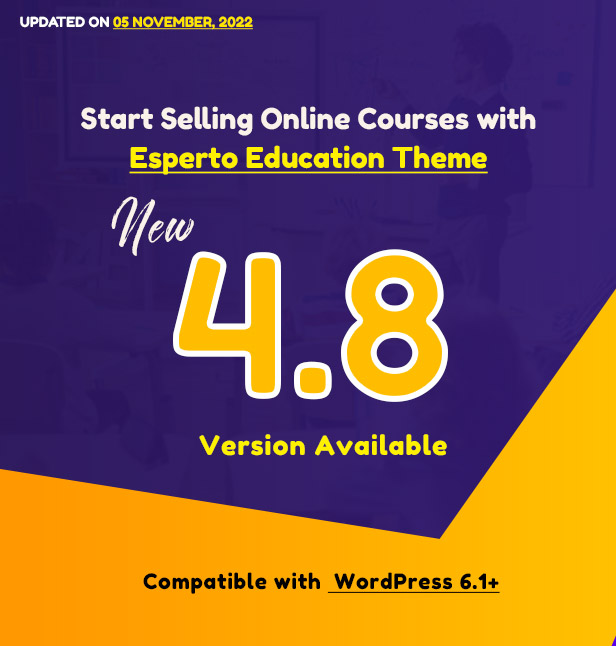 Esperto A Responsive Coaching & Consulting WordPress Theme for Selling Online Courses
Carrying a professional mix of the latest UI/UX technologies, Esperto is an ultimate coaching WordPress theme 2022 for selling online courses and managing all types of life coaching / consultancy / tutorship services. It not only gives the best 'look and feel', responsiveness, and interactivity but also boasts a more sublime functionality and greater user adaptability.

Manage your coaching courses, books, articles, audios and videos (or video lectures) with powerful sliders, libraries, tabbers, parallaxes, timelines, success stores, and much more. Blogs, events, and services page, and contact form builder (powered by Contact Form 7) included. It's an all-inclusive consulting WordPress theme.
The pre-built 5+ totally unique and niche-specialized home layouts do not limit the display diversity of Esperto coaching services WordPress theme. It's here where your creativity begins. You can create new unlimited layout variations with unique mega menu, header, typography, colour scheme, and elements in the body. Word's 2 most powerful page creator tools are at your hand Elementor and WP Bakery Page Builder.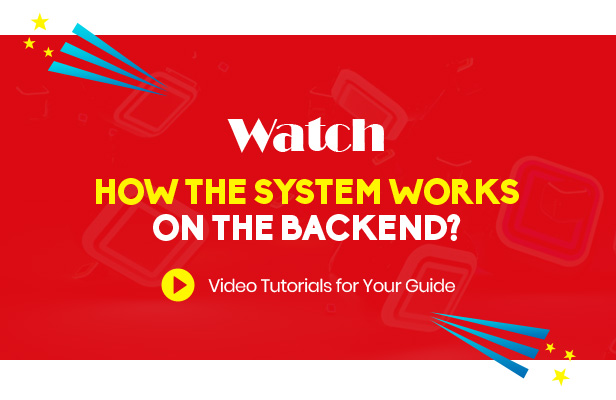 Here's What Sets Esperto Apart:
Esperto is a design, experience and market-friendly coaching services WordPress theme with special focus on online selling courses. You can manage student/teacher profiles, courses, price packages, and online shopping system. The setup is wonderfully easy. Begin with 1-click Demo Import, choose between Elementor or WP Bakery Page Builder for visually-guided, drag-n-drop based layout personalization.
5+ Unique Homepages (New 2022 Home Page Added):
Selling Online Courses (Home 1) This homepage manages coaching books, articles, videos, and other content with the help of featured area, parallaxes, and tabs. You can also manage user registration, testimonials, news articles, contact form, and success stories.
Life Coaching (Home 2) Showcase and promote life coaching facilities with video-powered parallaxes, achievements history, price plans, and event updates. Help out your clients in personal projects, business successes, personal life situations, professions, and relationship.
Consultancy Services (Home 3) Provide consultancy services related to profession, business, industry, investment, etc. It has built-in sections for achievement stats, company video promo, case studies, and package plans.
Online Teaching & Course Selling (Home 4) It has an extremely beautiful featured area to promote your educational project. There is special focus on content readability and it's fully controlled for further enhancement. Also you can manage courses, educational articles, events, clients' reviews, and product trials, etc.
Selling and Introduction of Language Courses (Home 5 2022 Version) New and build in year 2020, this new homepage 5 is the best for selling language courses online through WooCoomerce plugin. You can use this page for selling any other course online as well by changing the data entry of this page. The design is innovative and near to reality website and it is fully customizable as well.

Unique and Niche Specialized Each homepage is designed with a unique layout and a creative combination of features for a specific niche.
Customizable from Head to Toe You can easily customize everything from header layout, behaviour and typography to body colour schemes, sidebars and footer.
New Layouts in the Row We have new layouts in the row which will appear in the future updates.
Online Payment Support
WooCommerce plugin integrated.
Complete shopping system with price plans, bill management, and checkout pages.
UX Optimized for Consulting/Coaching/Selling:
Performance + User Adaptability Apart from creativity, colours, and displays, Esperto consulting WordPress theme is equally concerned with functionality and user adaptability.
Experience Excellence It puts special focus on the user experience (UX). And caters to the needs and dynamics of consulting, life coaching, tutorship, instructor-ship, and online course selling projects.
Unique Header, Footer, Colour, and Layout for Every Page/Post
Make every page of your website totally unique in structure and style.
Esperto coaching services WordPress theme fully supports all-out editing and personalization.
You can personalize every single page or post for its header, footer, colour scheme or layout.
Fast, Unlimited Layout Variations
Huge Collection of Structural & Functional Elements Esperto coaching WordPress theme brings with it a huge collection of structural and functional elements.
Powerful Editing Tools Powerful editing tools help you to choose and put the desired elements in order. In this way, you can create unlimited layout variations.
Powerful Course Selling System:
The course selling system of Esperto consulting WordPress theme is powered by:
Ultra-HD, multi-layered featured area and Parallaxes.
Promotional videos.
Multiple styles for course content and categories management.
Testimonials, news blog, success stories, and online free assistance supported.
You can manage textual, audio and visual data (courses) separately.
2 World's Most Powerful Page Builders (Elementor & WP Bakery Page Builder):
The Elementor and WP Bakery Page Builder are the world's two most advanced page creation tools. Both have vastly different market positions and marked distinctions.
Visual, Drag-n-Drop Editing: Both the page builder stalwarts support easy drag-n-drop functionality.
Total Frontend & Backend Editing: While WP Bakery supports both backend and frontend editing, the Elementor exclusively offers fantastic frontend page building experience.
Integrated for Free: Both page builder tools are integrated into Esperto consulting WordPress theme for free.
1 Click Complete Demo Install:
Guaranteed 1-Click: Here's guaranteed 1-click complete demo importer system.
A Few Second Process: Integrated into the backend panel, this amazing system imports all the demo data within a few seconds.
Easy Pathway: You can locate it easily among the Theme Options at the backend.
Create Unlimited Courses to Sell Online:
Unique Styles Esperto coaching services WordPress theme has differently-structured shortcodes to create and showcase coaching courses in unique styles.
Manage all Courses Types You can sell coaching content in the form of coaching articles, books, audios, and videos.
Organize Courses Topics The courses can be related to marketing, business, office productivity, data analysis, and career development, etc.
Set Any Colour for The Theme:
Define & Apply a Colour Scheme with a Click It takes just a click to define and apply a unique colour scheme on the entire theme.
Create Beautiful Colour Contrasts You can also create beautiful colour contrasts to enhance look and readability.
Complete Control on Typography:
Reshape Style and Appearance of Text Complete control on typography allows you to reshape the style and appearance of the textual content according to the nature of your project.
Enhance Readability: A better readable text also depends on the background color scheme. Just go ahead with your needs.
Rating + Like/Dislike System:
Quick Feedback Both 5-star rating and like/dislike systems have been integrated into the product (in this case, coaching courses, etc.) and blog posts.
Let Popularity Express Itself It will inform the visitors and clients about the popularity of your products among users/buyers. As usual, the like/dislike system is 1-click based.
Show Your Events with Timeline:
Let People Prepare for the Event With the dedicated "Events" page, you can order and manage upcoming events about the coaching classes or the launch of new products with time line.
Precise Time Schedule You can mention date, duration, and time with each post.
Change Your Theme to Any Language:
Translate All Content Powered by WPML plugin, the multilingual system of the Esperto coaching WordPress theme allows you to translate the textual content on pages, posts, tags can categories to any language of the world.
Support RTL Language: It also supports languages with RTL format.
RTL Fully Supported with an Arabic Demo:
Reach out to RTL Linguistic Communities With RTL (right to left) language support, you can reach out to Arabic, Urdu, Hebrew, and Persian speaking communities with make up a sizable portion of the world population.
Arabic Based Demo Included An Arabic based demo is included in the package.
Customizable Megamenu Builder:
Quick Navigation A megamenu makes navigation easier and quicker.
All Format Support The Megamenu Builder featured in Esperto consulting WordPress theme supports text, tags, categories, icons, images and videos along with links.
Quick Editing So, spare a few second to build a unique megamenu and apply it on a single or multiple pages.
3+ Absolutely Adaptable Header Styles with Typography Control:
Fully Responsive Each header can auto-detect changing screen dimensions and realign its framework accordingly.
Totally Unique Your best coaching WordPress theme offers 3+ totally unique header styles.
Absolute Adaptability They are absolutely adaptable and completely customizable.
Complete Customization You can customize everything including typography, icons, elements, logo, and so on.
Unlimited Footer Variations Using WP Bakery:
Completely customizable footer.
Divide footer grid into different number of columns and add menus, links widgets, shortcodes, or even entire posts.
Define and set a custom typography for each footer.
You can also apply parallax to the footer.
You can use different footers for different pages.
Show Your Team of Experts:
Impress Clients at First Sight Clients often want to know about the expertise and acumen of your team. Impress them at the first look with the Esperto exclusive team management layouts.
Social Integration Each style is integrated with social media links and supports sidebar widgets.
Detail Pages Detail team member pages included.
Free Lifetime Updates:
Regular Updates As a part of our commitment with our worthy clients, we keep on regularly updating our products.
User Feedback/Recommendations Valued We highly regard user feedback and recommendation while launching a new update of Esperto premium coaching services WordPress theme.
60 Shortcodes To Change Anything:
Completely Editable All the shortcodes are fully editable. You can customize everything from features to text typography to layout as a whole.
Responsive Framework Each shortcode is built on a fully responsive layout for complete re-adjustment in any available space.
Huge Variety, Do Anything A huge variety of editable, responsive short codes allows you go an extra mile in customizing the theme. You can also define a fresh, totally unique layout.
Detailed Guideline See documentation for the list of available shortcodes.
WooCommerce Support to Sell Courses Online:
Fully Compatible WooCommerce plugin has been fully integrated into the Esperto consulting WordPress and repeatedly tested for its performance.
Multiple Payment Gateways You can allow clients to make payments with a credit card, bank transfer and other alternates. It also supports PayPal, Stripe, Apple Pay, Amazon Pay, and Square.
Product, Cart, and Checkout pages included.
Student/Instructor Profile System:
Separately manage profile and accounts of students and instructors/teachers on your life coaching WordPress theme.
Extensive, fully controlled backend options for student/instructor profile settings.
Edit options related to the banner (on/off), the banner background image, the banner background image layer, account title/link/icon, change password (on/off), profile image, subscription (on/off), and course-related settings.
Show Your Gallery in Several Ways:
Multiple, unique, graphically superb gallery styles.
Responsive framework for complete layout readjustment.
Customize your gallery for the number of columns, the number of posts to show, categories to fetch posts from, sorting order, enable/disable search icon, and enable/disable subtitle.
Form Builder to Build Forms:
Contact Form 7 supported on Esperto life coaching services WordPress theme.
Easy, extensive customization settings.
Assign titles/roles to different fields and enable/disable them.
Share Anything on Social Media Websites Easily:
All major social platforms fully integrated.
Share posts on Facebook, Twitter, Google+, LinkedIn, YouTube, and Pinterest with a click.
Enable/disable different social platforms from the backend.
Fully Responsive for All Devices:
Looks perfect on all the small and large displays.
Layout auto-detects changing display dimensions and readjusts itself accordingly.
All the individual elements in Esperto consulting WordPress theme are built on a responsive architecture for excellent collective responsiveness.
Option to add Custom CSS and JavaScript Code:
Well-Managed, Receptive Code The coding framework of this coaching WordPress theme is well-managed and receptive to new changes/modifications.
Play & Make It More Personalized The expert level users can easily add custom CSS and JavaScript code anywhere they need. In this way, they can experiment and perfect their skill as well.
MailChimp Subscription Form:
Single-Step Subscription MailChimp powered form completes user subscription for the newsletter in a quick, 1-step process.
Turn Viewers to Clients With newsletter subscription system, you can instantly inform the users/viewers about the latest promotions and discounts and turn them to clients.
Twitter Feeds Section:
Create a Twitter Feeds section on your life coaching website.
Set/edit title for Twitter Feeds section.
Choose the number of Tweets to show at a time in the Twitter Feeds section.
Esperto Theme Features
5 Home Pages
Blog Page with 15+ options
RTL (Right To Left) Language Support Available
Blog Archive Page with 15+ options
Blog Author Page with 15+ options
Blog Category Page with 15+ options
Blog Tag Page with 15+ options
Blog Search Page with 15+ options
Blog Single Page with 11+ options
Coming Soon Page with 10+ options
404 Page

Gutenberg (WordPress 5.8) Supported

Elementor (The Best Page Builder Plugin) Supported

Course Purchase System With WooCommerce
Student / Instructor Profile System
Product Page with multiple options
Product Single Page with 15+ options
Product Category Page
Product Tag Page
Shop Page
Cart Page
Checkout Page
Cart Popup
My Account Page
Wish list Page
About Page
Contact Page
Widgets Page
32+ VC Custom Elements
Login Form
Google Map
Newsletter options
Twitter API options
MailChimp API options
Unlimited Sidebar options
3 Header Style with Unlimited options
13+ Footer options
35 Widgets
Mega-menu Builder
Services
Events Management
Testimonials Display Features
Coaches Management with Social Sharing
Team/Coach Management System
Several Gallery Displaying Styles
Free Form Builder To Build Any Type of Form
Unlimited Social Media Sharing options
Widgets options
Complete Typography Changing Features
Visual Composer (Works Fine with Visual Composer The Best Page Builder)
WooCommerce Supported
Complete Control for Responsive Version
Unlimited Color Schemes
ChangeLog and Improvements
Version 4.8 (05 November, 2022)
Compatibility Compatible with WordPress 6.1.
Compatibility Compatible with WP Bakery 6.9.0.
Compatibility Compatible with Contact Form 7 5.6.4.
Compatibility Compatible with WooCommerce 7.0.0.
Updated Update the WooCommer template file.
Fixed Fix home page shortcode video popup issue.
Fixed Fix responsive menu click button issue.
Fixed Fix header sticky menu issue.
Fixed Fix home page javascript console issue.
Version 4.7 (04 June, 2022)
Compatibility Compatible with WordPress 6.0.
Compatibility Compatible with WP Bakery 6.9.0.
Compatibility Compatible with Contact Form 7 5.5.6.1.
Compatibility Compatible with MC4WP: Mailchimp 4.8.7.
Compatibility Compatible with WooCommerce 6.5.1.
Updated Update WooCommerce template files.
Fixed Fixed cause single course page code issue.
Fixed Fixed WooCommerce deprecated method issue.
Fixed Fixed home page coach tab id issues.
Version 4.6 (14 April, 2022)
Compatibility Compatible with WordPress 5.9.3.
Compatibility Compatible with Elementor 3.6.3.
Compatibility Compatible with WP Bakery 6.8.0.
Compatibility Compatible with WooCommerce 6.4.0.
Updated Updated WooCommerce template files.
Fixed Fixed Elementor deprecated method issues.
Fixed Fixed function files Php code issues.
Fixed Fixed WooCommerce conditional tag issue.
Version 4.5 (25 October, 2021)
Compatibility Compatible with WordPress 5.8.1.
Compatibility Compatible with Php 7.4.16.
Compatibility Compatible with Elementor 3.4.6.
Compatibility Compatible with WooCommerce 5.8.0.
Fixed Fixed home page slider issue for responsive device.
Updated Updated WooCommerce template files.
Version 4.4 (18 August, 2021)
Compatibility Compatible with WordPress 5.8.
Compatibility Compatible with Php 7.4.16.
Compatibility Compatible with WPBakery 6.5.
Compatibility Compatible with WooCommerce 5.5.2.
Fixed Fixed functions.php file code error.
Fixed Fixed Newsletter form error.
Fixed Fixed course list filter error.
Version 4.3 (07 June, 2021)
Compatibility Compatible with WordPress 5.7.2
Compatibility Compatible with Php 7.4.16.
Compatibility Compatible with WooCommerce 5.3.0.
Updated Update Woocommerce Template Files.
Fixed Fixed Mailchimp File Path Error in function.php file.
Version 4.2.1 (01 May, 2021)
New "Video Conferencing with Zoom" compatibility added.
Fixed WPBakery row setting issues.
Compatibility Compatible with WordPress 5.7
Compatibility Compatible with Classic Editor 1.6
Compatibility Compatible with WPBakery 6.5
Updated Revolution Slider plugin has been updated.
Version 4.2 (22 March, 2021)
Improved Demo import improved.
Improved Typography Improved according to new trends.
Improved Design related improvements made.
Compatibility Compatible with WordPress 5.7
Compatibility Compatible with Classic Editor 1.6
Compatibility Compatible with WPBbakery 6.5
Updated Revolution Slider plugin has been updated.
Version 4.0 (09 January, 2021)
Updated Update WooCommerce templates.
Compatibility Compatible with WordPress 5.6.
Compatibility Compatible with PHP 8.0.
Removed Removed setup wizard screen error.
Added Added webinane-redux as required plugin.
Improvement Remove all theme-options from theme and added into Esperto plugin config folder.
Fixed Solved menu error on backend.
Added Add webinane-redux plugin in tgmpa file.
Our 6 The Best WordPress Themes Updated Regularly (13,400+ Satisfied Customers)
Lifeline A Fundraising Theme for Charities, NGO's, Non-Profit Organizations etc
Deeds2 Religion and Church WordPress Theme
Lifeline 2 An Ultimate Nonprofit WordPress Theme for Charity, Fundraising and NGO Organizations
Deeds A Church WordPress Theme with Brilliant Features
Actavista A Political WordPress Theme
Dictate Responsive Spa and Salon Theme