KONZEPT is a portfolio solution for creative professionals of refined taste. Extensive control options, responsive behavior, fullscreen experience and clutter-free approach put your works in focus. The definitive portfolio solution for creative professionals available now.
Demo Versions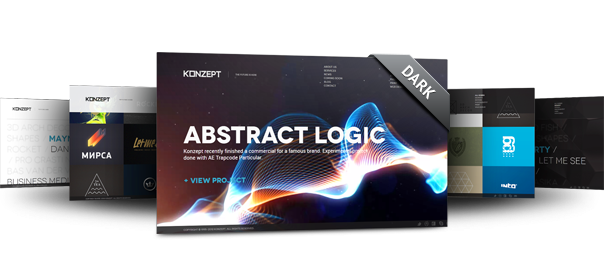 Dark Version (Thumbnails)
Dark Version (Projects List)
Dark Version (Thumbnails + Slideshow)
Light Version (Thumbnails)
Light Version (Projects List)
Light Version (Thumbnails + Slideshow)
Mobile Demo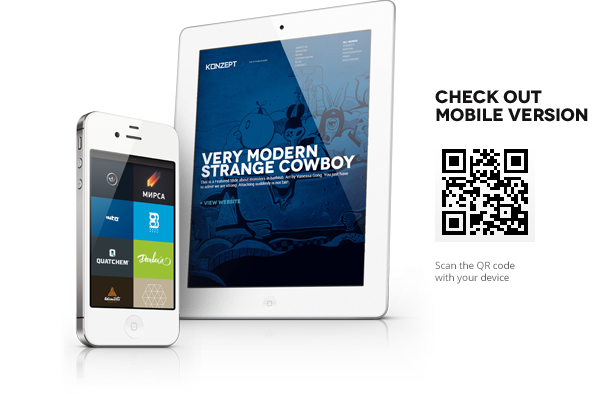 Major Features
Portfolio display with category filter
Thumbnails or Text Listing modes
Featured Slider (Images or HTML5 videos)
Multi-category projects
Present Identity, Motion, Web, Print, Photo projects and more!
HTML5 video slides
Built-in Dribbble feed
News section
About Us section
Services section
Blog
Ability to create any other pages with custom layouts
Contact Form
SEO Optimized
Social Shares
Responsive Behaviors
iPhone/iPad/Android compatible
Upload projects quickly & efficiently
Drag & Drop upload support
Drag & Drop slide sorting
Video, Youtube, Vimeo support
The Future is Here

True fullscreen on any display
Unlimited scaling 300ppi screen support & Apple Retina display support now
Various input options control your experience however you like
Smooth flash-like experience on various platforms
Other Features
Unbranded Options Panel
Text Logo (+ tagline)
Image Logo
Extensive documentation
PSD included
100% valid HTML5
Compatible with WP4.4 and IE, Edge, Chrome, Firefox, Safari and Opera
External links in project and slide descriptions
Social Shares
What Others Are Saying
Wow, you guys are always pushing the envelope of what's possible with WP.
– Dave Aaron
Sick man, the animations and transitions are killer and really supplement the overall design, congrats!
– Owen Shifflett
Beautiful work! I've never seen such a professional portfolio theme.
– Nick Sigler
The design is absolutely stunning!
– kailoon
Speechless, yet again. I am all for the purchase!
– projectsourced
Wow this is amazing. Like Wow. Wow!
– publicglaze
This is F*cking awesome man, thumbs up. Great work. Really hard to not buy it
– Massfocus
DUDE! This looks AMAZING! So great to have something new to see!! All the bew themes of late have been getting a bit boring but this is super hot! Buying right away!
– ladydekade
Shut up and take my money! (Your agency theme user, soon to be ex user?now I must use Konzept
– animatika
AWESOME!
– purethemes
This absolutely rocks, definite purchase. Great work.
– velocity_uk
Amazing fresh work!
– kotofey
AMAZZZZZING !!!!
– ladydekade
This is amazing. And I am going to force myself to use it for my own site. Thanks Flower, have been waiting for a portfolio like this, and I am GLAD I waited so long!
– dbrowne
Just epic, love the font choices ? never seen those on TF before. Good luck with sales!
– freshface
Sweet piece!
– GoodLayers
AWESOME AND POWERFUL! Bookmarked!
– westkast
I love you. This one will be mine today But one thing you?ll have to promise: Support this masterpiece and keep on developing for a long time. And (important): Please don?t die within the next 5-6 months (cuz of the support.. you know) )" title=" :)" />
– destynate
Wow. Hats off to you! A truly amazing build!
– mrschwartz
Amazing Theme! Still astonished by it?s interactivity.
– Lung
Awesome work!!!!
– swimnews
Purchased it & have to say ? love it?
– innovadia
Excellent theme, congratulations.
– marcinhocarvalho
I must say, this theme finally forced my to signup. For the last two years I had just been browsing themeforest. This was the tipping point for me. Great Job I am definitely going to buy this.
– sumeetminhas
Your support is AWESOME by the way. Do you ever sleep;)
– successmatters
I have to say I regularly look for a better, more simple, better equipped theme quite often. This may be the the best theme I?ve come across since signing up, the typography alone is enough to buy. Cheers, Great Job!
– desgingrosse
Best theme I?ve bought hands down! Great effort!
– Andy-Brown
Got it! Killer! Thanks again. You do a hell of a job helping all of your customers! Thanks again!
– PHANTAZMA
I am amazed and delighted with your support. Thank you very much. I appreciate the speed and your seriousness. Thank you so much!
– dormopoco
Showcase
See how others are using KONZEPT.
Benjamin Van Vianen http://www.benjaminvanvianen.nl/
Digital-Ray http://digital-ray.dk/
Garage Clandescino http://www.edigahost.it/garageclandestino/
Jonas Jensen's portfolio http://www.jonasj.com/
Josh Grieve's Portfolio http://joshgrieve.com/
Schitto Schmodde Werbung http://ssww.de/
Odile Hain Photography https://www.odile-hain.photography/
Scott Harris Brasher http://scottharrisbrasher.com/
Rene Haas portfolio http://renehaas.com/
Marko Rapaic's Portfolio http://www.markorapaic.com.au/
SocialDom http://www.socialdom.com/
Kateryna Gontaruk http://katerynagontaruk.com/
Need Support?
If you need support please start with the documentation. You can find our contact information on the support page. We will usually get back to you within 24-72 hours. Complex issues may take longer.
Current version: 3.1 (available from the repository)
Credits
KONZEPT uses Novecento font by Synthview, available from Fontspring. You need to accept Novecento's EULA agreement before downloading if you're planning to use it in your commercial or non-commercial projects: [View License].
Big thanks to all great designers who provided preview content for KONZEPT: Guilherme Villar, Anthony Jones, Pavel Pavlov, Vanessa Gong, Alexander Laguta, Kostadin Kostadinov, Sergey Shapiro, Shaun Moynihan, Nimax.
Other Works