IT'S AN AWESOME BLOG TO INCREASE USER EXPERIENCE.
We have several great feature for you such as increase the pleasure of reading and that will help of your focusing. Everything is away from you expect that the content you want to read.
As long as, you read. Maybe with a coffee or music…

Presentation Webpage or Behance (details)
Install and Customize (video)
Documentation (online)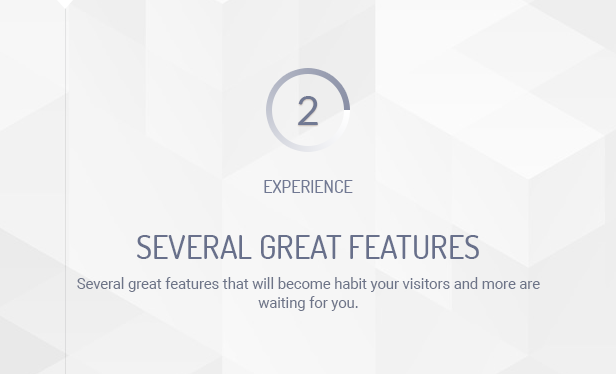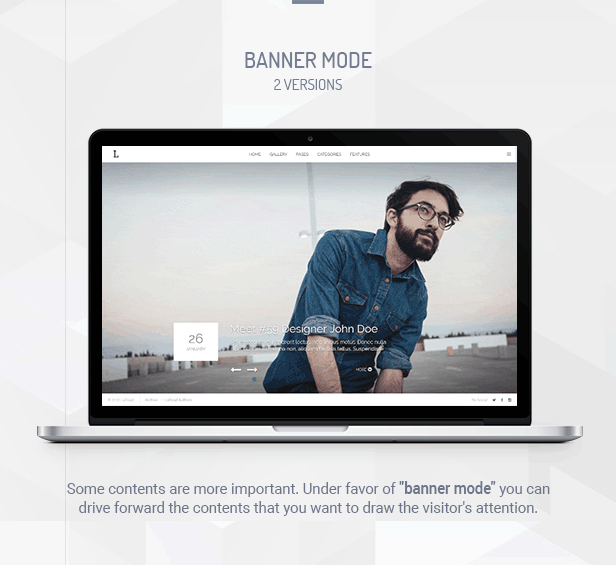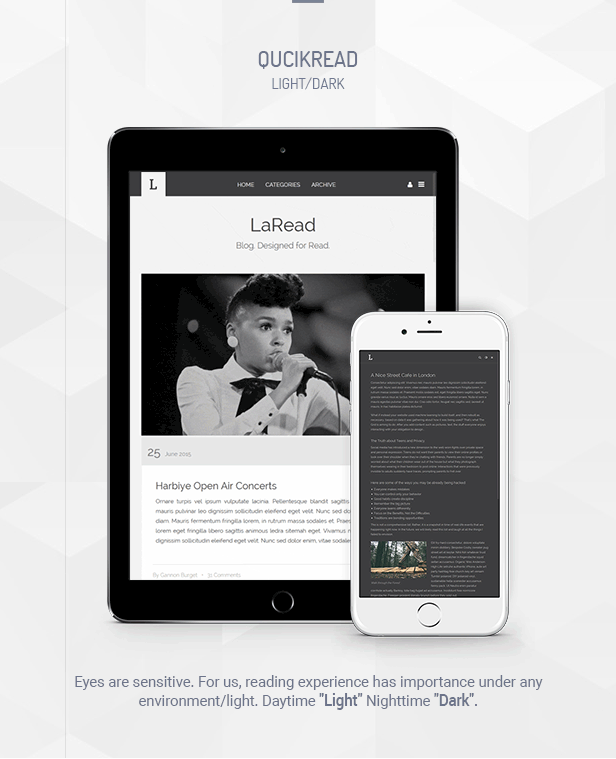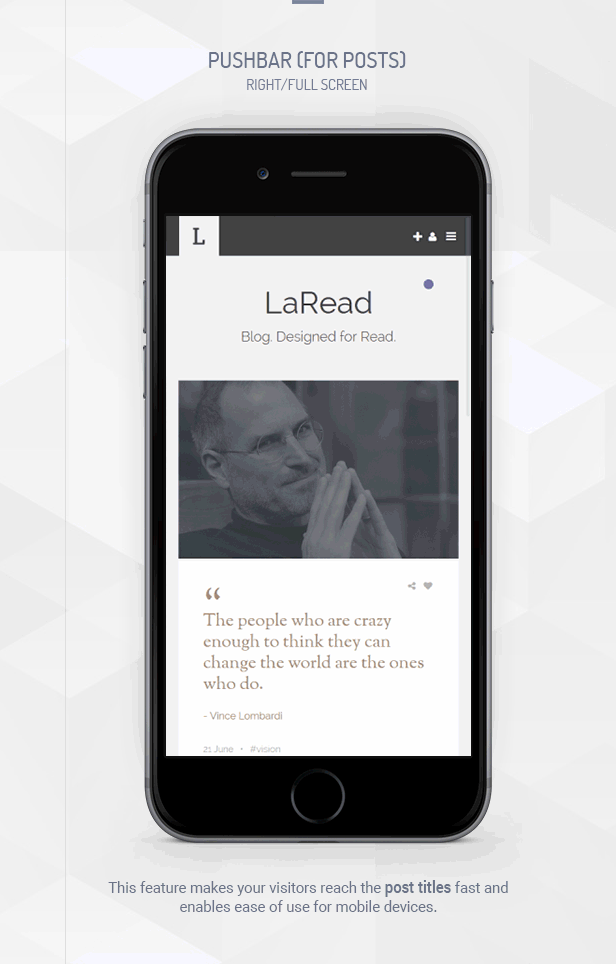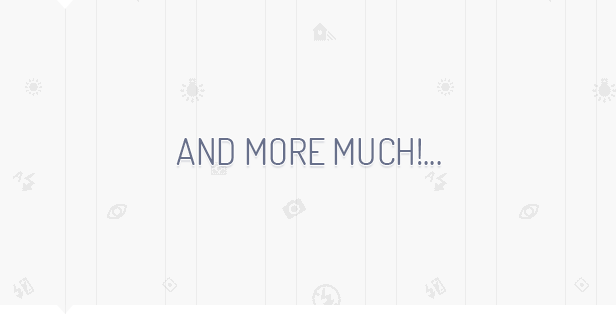 5 Different Blog Options
Everything is to the accompaniment of a minimal design, at your fingertips. We reinterpreted our blogs with our different perspectives. Not less, not more. However, it is certainly more different and elegant than the others. The choice is yours.
v1 Large Image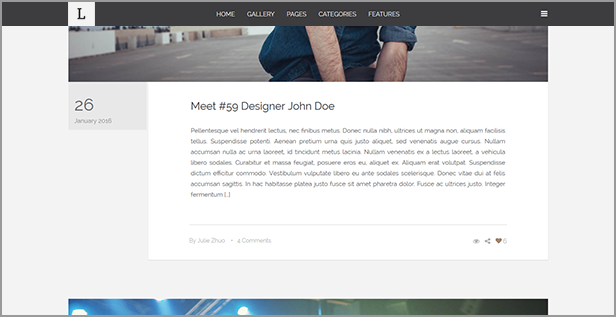 Large visual areas. LaRead gives you flexibility to create your contents. 17 different post formats help you to ideally publish contents that may need. In the large image version, retentively large visual fields, we allow to appeal to your eyes.
  
v2 Medium Image (with sidebar)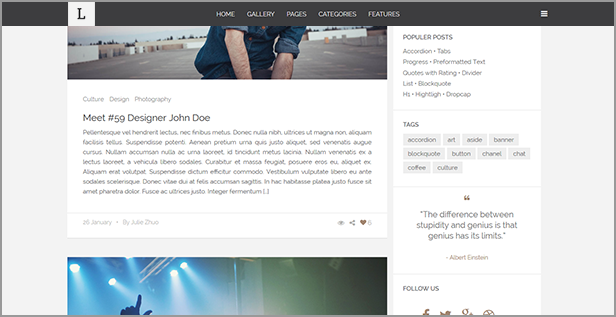 We reinterpreted our blogs with our different perspectives. Not less, not more. However, it is certainly more different and elegant than the others.
In this version, 12 different widgets that will accompany for your contents ready to use. We have a good relationship with numbers.
  
v3 Medium Image (without sidebar)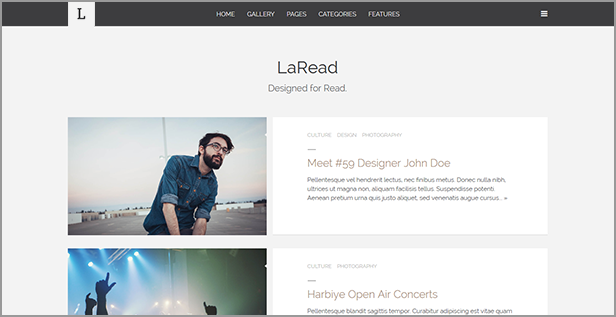 If your fingers are so fast about producing contents, this version may accompany to you. Images and writings next to each other. As in other versions, it is literally in harmony with mobile devices.
In this version, we achieved to fit more content on the screen.
  
v4 Masonry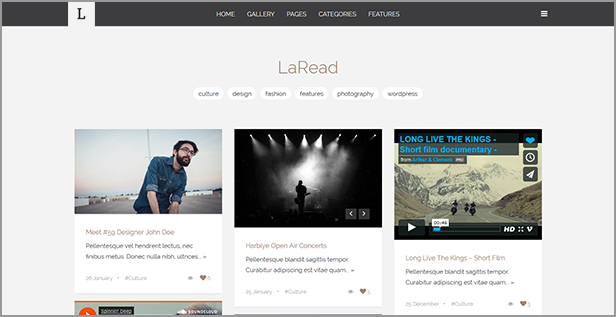 And more contents. Do not care about the image size, "LaRead" does not make concessions to ensure to you for the best user experience.
When everything is drifting from time tunnel, you can stop the time by select contents what you want. The choice is yours.
  
v5 Banner Mode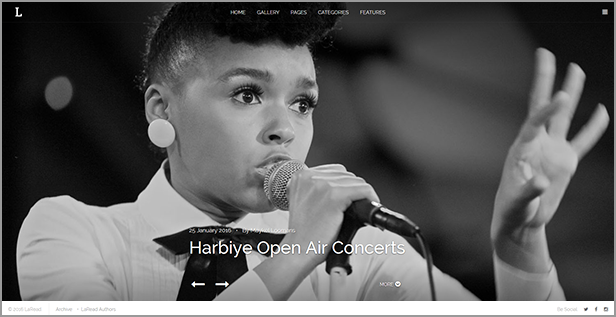 Some contents are more important. Under favor of "banner mode" you can drive forward the contents that you want to draw the visitor's attention.
Banner Mode -v1
Banner Mode -v2
Widgets

Search
Custom Category
Popular Posts
Text Widget
Tags
Quote
Archive
Social Networks
Twitter
Instagram
Flickr
Calendar

Shortcode & Typography

H1 • Hightligh • Dropcap
List • Blockquote
Quotes with Rating • Divider
Progress • Preformatted Text
Accordion • Tabs
Button • Notification Box • Promote

Pages
As a matter of course, the complement facts of blog are pages. We may have done a little bit more.
About-v1
About-v2
Authors
Author-Detail
Archive
Gallery-v1
Gallery-v2
Gallery-v3
Contact-v1
Contact-v2
404
Core Features
"LaRead" is user-friendly and also friendly for developers.
HTML5 + CSS3
Bootstrap 3
Grid System and Responsive Design
Google Fonts Support
All files are organized
Crossbrowser Compatible
Extensive Documentation
PSD Features
In the all PSD files, layers are named and grouped. It is so easy to organize them.
Fully customizable
Bootstrap layout ready
Grid lines included
Page and Blocks variations different
Light and Dark styles
Free fonts, icons used
All icons and shapes are vectoral
Well organized layers makes it very easy to update
Named groups and layers
51 Fully & Accurately layered .PSD files
Sources & Credits
We thank to great artists who give a magic touch to our theme with their unique work so much. Content is king.
Free Fonts Used (google fonts)
Raleway
Sorts Mill Goudy
Roboto
Roboto Slab
Photo Credits
Tools
Front-End Framework: Twitter Bootstrap
Font Icon: Font Awesome
JavaScript
Javascript Library: Jquery
Colorbox: Jacklmoore.com
Bootstrap Extend: Jasny Bootstrap
Bootstrap Gallery: Blurimp Bootstrap Gallery
Masonry: masonry.desandro.com
Calendar: Zabuto Calendar
Back-End
Titan Framework
TGM Plugin Activation
Changelog

 version 1.3 - 13 July 2016  [+] LaRead quick read remember the last select theme  [+] Added child theme [+] General improvements have been made  version 1.2  -  10 May  2016 [!] Gallery load problem solved. [+] Added lazyload option gallery. [+] Updated widget instagram. [!] Link hover color problem solved. [+] General improvements have been made.  version 1.1  -  20 April 2016 [!] The Retina logo problem solved. [+] Added search button section header and banner modes. [+] Added laread gallery disable option in post content.