Version 6.3 November 05, 2022 documentation | changelog
WordPress 6.0 Ready
Gutenberg Ready
GDPR Ready
Available for custom work
(PayPal/Crypto).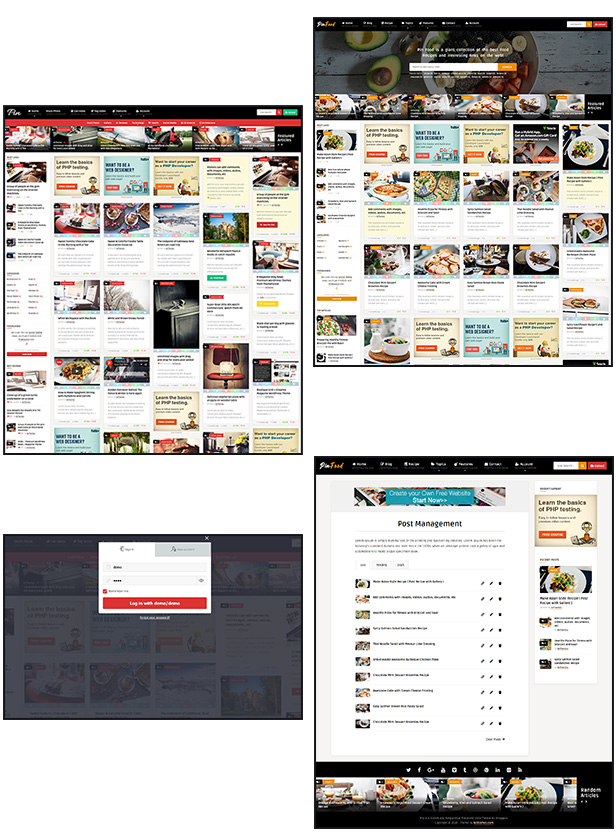 Pin Pinterest Style / Personal Masonry Theme
Pin Premium WordPress Theme is a Stylish and Responsive Pinterest style Theme for Bloggers. Created with love using the latest HTML5 and CSS3 techniques with a validity code (both demos), completely responsive to look perfectly in all mobile devices, easily usable with any device as well as PCs. Responsive design optimized for tablets and smartphones (resize browser and hit refresh to check it out).
Some of the majore features of Pin Theme are: Fly-Out Navigation for Mobile and Tablets ( this is a Highly Customisable Responsive Menu Plugin ), Masonry style / Grid Style / Pinterest Style, Full width & Boxed Style, 2 Navigation Menu, Live Search, Thumbs Rating & Review System, Child Theme, Google Snippets, and a lot more.
Frontend User Content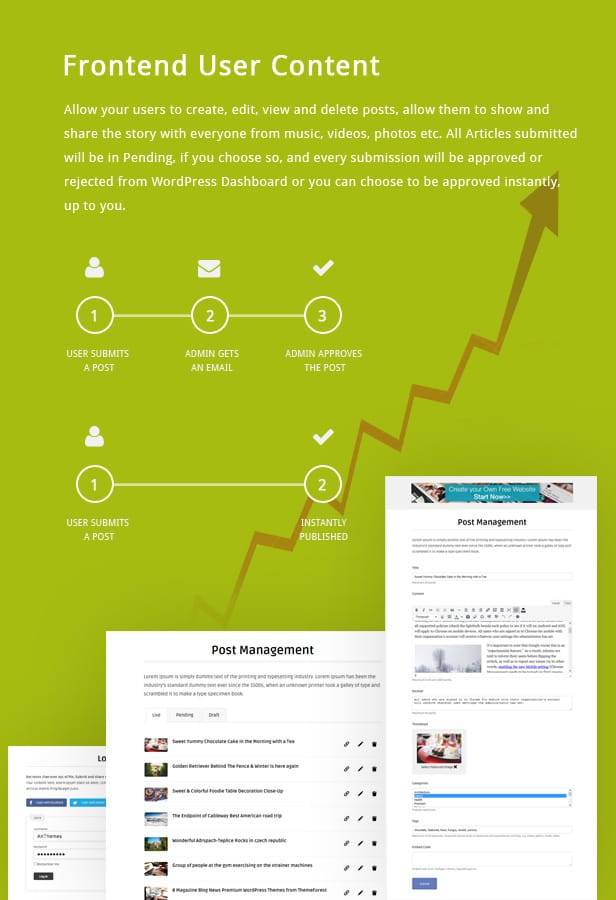 If you want to give your users the ability to create posts from the front-end area then Pin Theme is the perfect solution for you.
Unlimited Forms
Create unlimited forms, each with its own settings and restrictions.
Post Management
Allow users to view, edit and delete the content they have created.
Instantly publish posts by
Administrator, Editor, Author, Contributor, Subscriber. The post submitted by these roles will be published instantly. You can check and choose the ones that will have this amazing feature, enabled.
CopyScape Integration
Make sure every submission is completely unique by passing it through CopyScape.
Email Notifications ( User )
Send thank you messages to contributors and get notified whenever a submission is made.
Email Notifications ( Admin )
Send email notification to admin to get notified whenever a submission is made in order to approve the submissions or you can enable the Instantly publish posts option.
Layered Security
Make sure only real users can submit content with the help of captchas and hidden nonce fields.
Post Types
Quickly create forms for any post type. Custom taxonomies are also fully supported.
Create unlimited forms, each with its own settings and restrictions for every Fields..
Post Title Words
Add min / max words.
Content Post
Add min / max words. Follow / NoFollow All Links. On / Off Media Button. Add the max links a user can add to the post content.
Categories
Simple Selection (1 category) or allow multiple selections.
Tags Max Count
Add min / max number of terms (tags) that you want the user to enter.
We've also created a complete list of best content sharing WordPress themes and front end submission from our shop, just in case you need something different than Pin theme.
Making Money = Advertisement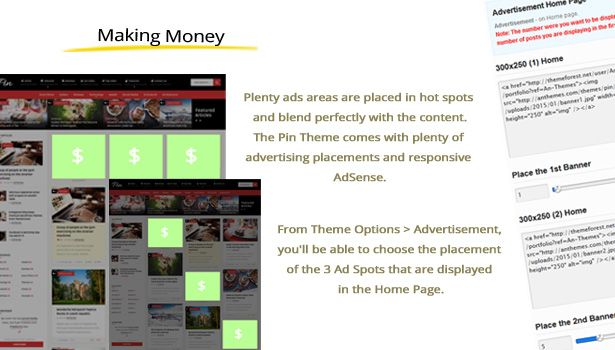 Plenty ads areas are placed in hot spots and blend perfectly with the content. The Pin Theme comes with plenty of advertising placements and responsive AdSense. From Theme Options > Advertisement, you'll be able to choose the placement of the 5 Ad Spots that are displayed in the Home Page.
Theme Features Pinterest Style
Insane Product Created by ThemeForest Elite Author.
Default Pagination or Infinite Scroll.
Frontend User Content & Post Management.
Ajax Login / Register modal popup.
100% Fully Responsive
13 Custom Widgets
Home with Sidebar Left
Masonry style / Grid Style / Pinterest Style
Default Pagination or Infinite Scroll
Fly-out Mobile Navigation
Live Search with Thumbnails
Hide Featured Image Option
Tag and Cat Map
Google Snippets
Unlimited Colors
Child Theme Included

WhatsApp share icon for article page.
Live Search.
Review System.
Ready to operate out of the box
Fully Customizable
Font Awesome Icons ver. 4.7
Sticky Header
Translation Ready .POT file
Custom Logo Options
Custom Favicon Options
Drag & Drop Gallery Images
0 PHP notices & warnings
Custom CSS via Theme Options
Disqus comments ready to operate
Contact Form 7 plugin
Thumbs Rating & Review System
13 Custom Widgets
Posts by Tags (write the tag, or add more tags).
Most used Tags ( choose how many tags to display )
Posts by Categories (write the category, or add more categories)
Recent Posts
Popular Posts by Comments
Feedburner Subscribe
Popular Posts by Views

Popular Posts by Likes
Latest Reviews
Random Reviews
Popular Reviews
Custom Banner 300px
Categories in 2 columns
And, obviously, all default widgets too, that are nicely styled, "Pin" theme gives you the opportunity to use all Widgets, the way you want and with the unlimited custom sidebars, every page / article can have different widgets.
From Version 4.1 you can now add links and buttons via excerpt for affiliate purpose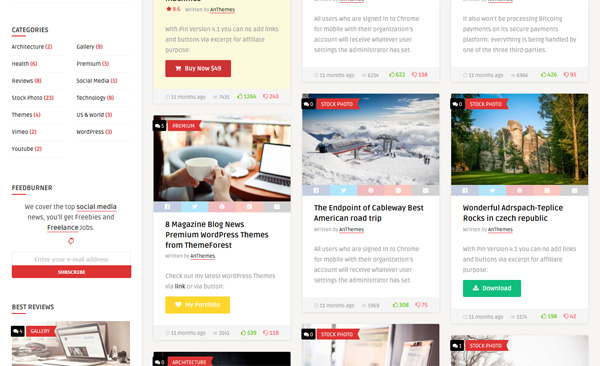 Home with sidebar or full width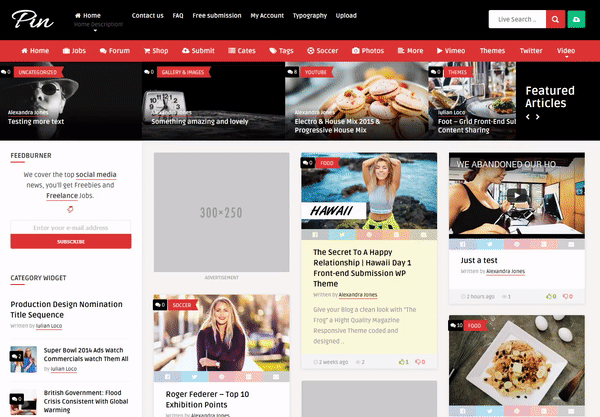 More Options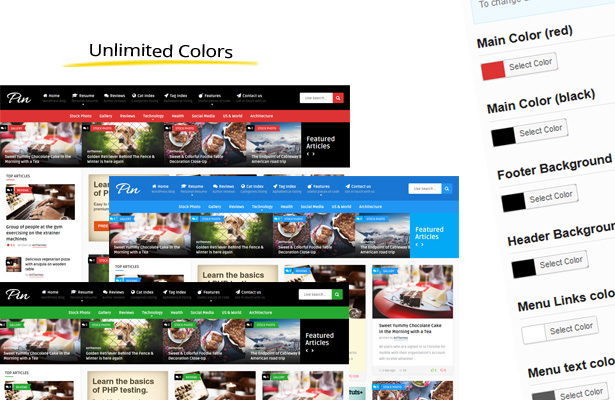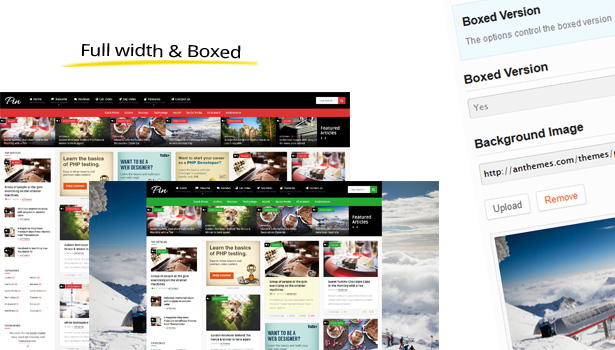 More Features
Fly-Out Navigation for Mobile and Tablets This is a Highly Customisable Responsive Menu Plugin, with 45 customisable options. The plugin creates a nice three-lined menu button (or custom image if you choose) that users can click to bring a slide out menu, which is easily navigated. A lot nicer and neater than the select drop-down menu alternative.
WP Recipe Maker to easily add recipes to any post or page. Foodwoo theme automatically take care of adding JSON-LD metadata for SEO purposes. With recipe ratings in the user comments and clean print recipe version for your visitors. Also, you can add photos to any step of the recipe.
Multi-column Tag Map and Categories Map displays a columnized and alphabetical (English) listing of all tags, categories, pages or single taxonomies used in your site similar to the index page of a book. This makes it easier for your visitors to quickly search for topics that might intrest them, this functions brings more benefits for SEO purpose.
Live Search technique means that most people will find the results they are looking for before they finish typing their query, and it saves them the step of having to click a submit button to get their search results.
Masonry style / Grid Style / Pinterest Style style layouts push the boundaries of creative layout techniques. I personally love how capable they prove to be at maximizing the efficiency of galleries containing items with varying heights. Masonry is a JavaScript grid layout library. It works by placing elements in optimal position based on available vertical space, sort of like a mason fitting stones in a wall.
Responsive WordPress Theme Responsive design optimized for tablets and smartphones (resize browser and hit refresh to check it out).
Blog Posts Unlimited images for the gallery slider format with drag and drop, this theme can be used like a photography theme too! With meta boxes for videos Youtube & Vimeo.
Translation Ready You can translate the Theme to your own language. The theme includes .po & .mo files for easy translation.
Reviews and rating with unlimited Criteria with drag and drop and unlimited colors / fonts, etc. Taqyeem Ratings & Reviews Plugin This plugin was built for adding lovely ratings and reviews to your posts, pages, and custom post types.
Super Fast! Created with love using the latest HTML5 and CSS3 techniques with a validity code, completely responsive! Pin Responsive Magazine Theme has been optimised to the maximum, to give you one of the best Personal Magazine Themes!
Pinterest style WordPress theme review
The Pin theme is a top-notch solution with a beautiful Pinterest style, making it look similar to a magazine or social network. When a user lands on the page they can either edit, create, view or delete the posts. Therefore, it's mainly a place for users to make frontend decisions and share their own internet discoveries with other people. The theme provides a social login module which we like for getting your users logged into the site within seconds. There's also a full frontend submission tool, speeding up the process for those who have new content to share. The one-click demo installation comes in handy for developers, and the unlimited sidebars are essential for designers with organization on their minds.
Pinterest Pin WordPress theme offers a live search, meaning suggestions and useful information come down whenever a user punches in a keyword or half of a word. The live search moves people through your site in a more efficient manner, and the tags and filters combine with this for an impressive navigation system. We already talked about sidebars, but it's also worth mentioning the 13 custom widgets. These are super easy to implement, and they provide functionality for everything from social media to content creation.
One of the final features we enjoy is the review system. The system not only has rich snippets for better search engine results, but it allows you to make money with your own little ads on the review pages. Overall, reviews and ratings can be written and displayed by you, and the widgets then aggregate reviews to make nice lists for people to stumble upon. For example, one of the widgets is for all of the latest reviews. Along with unlimited colors, Disqus comments and more, the Pin WordPress theme looks great.