Get the master solution for all kind of marketing and startup website needs in Prestige ? Multi Purpose WordPress Landing Pages. It gives voguish landing pages apposite for promoting web and cell phone applications, and other types of marketing requirements.
Prestige ? Multi Purpose WordPress Landing Pages are apt for marketing, notification of a future product launch, Click through landing Pages, lead gen landing pages, Web and mobile applications. The template is highly acclaimed for its design quality and customizability. It has more than 200 sales and average customer rating of above four stars. The promising features of the theme are:
HTML 5 video background
Nine homepage styles
Three custom post types
Advanced theme options
Buy the all-new Prestige ? Multi Purpose WordPress Landing Pages, designed just for you.
What our customers saying about Prestige

Checkout Amazing Landing Page Template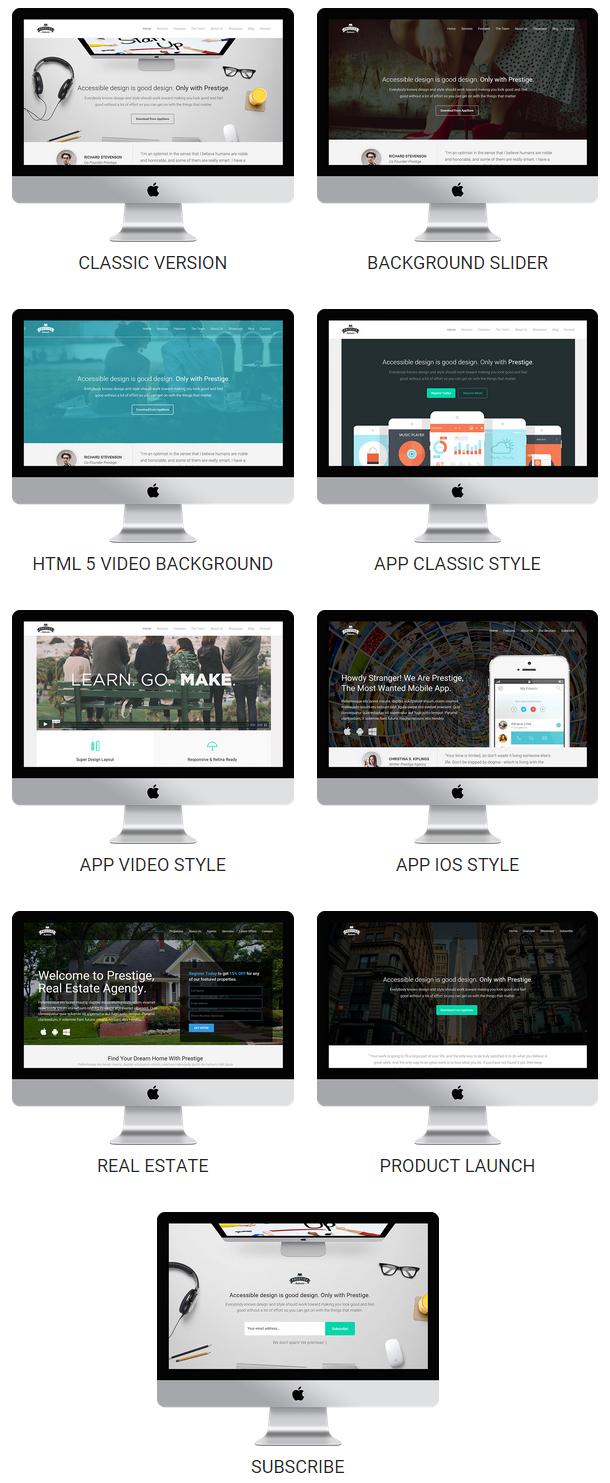 Key Features
9 Homepage styles
4 Different Header styles(Image, Video, Slider, Color)
Wide mode/ Box mode layout
Light Mode/Dark mode/Color mode
Advanced theme options
Mailchimp integration, Squeeze pages
Shortcode generator
Page builder
Fully responsive
Unlimited color presets
Google fonts
3 Custom post-type( Property, Portfolio, Pricing Table )
& Much more..
This landing page is best suitable for:
Marketing and startup campaigns
Notification of a future product launch
Click-through landing pages
Lead gen landing pages
Web and mobile apps
Theme Support:
If you have any questions please feel free to email via my user page contact form HERE. Thank you!
Please note that images used in live preview are not included in the package.
Change Log
 1.3.6.1 - 19th January, 2022 1. WPBakery Page Builder plugin updated 2. Convertplug plugin updated  1.3.6 - 02nd December, 2021 1. PHP 8.0 issues fixed 2. CSS fixed  1.3.5 - 02th October, 2021 1. Demo-data updated 2. Contact form design improved 3. CSS fixed  1.3.4 - 19th September, 2021 1. Theme required plugins updated 2. Removed unnecessary plugins 3. WP 5.8 compatible issues fixed 4. CSS fixed  1.3.3 - 27th July, 2021 1. Theme required plugins updated 2. WP 5.8 compatible issues fixed 3. CSS fixed  1.3.2 - 12th May, 2021 1. Theme required plugins updated 2. Convertplug plugins updated 3. CSS fixed  1.3.1 - 25th February, 2021 1. Theme required plugins updated 2. JS Composer plugins updated 3. CSS fixed  1.3.0 - 16th January, 2021 1. Theme required plugins updated 2. CSS fixed  1.2.9 - 06th January, 2021 1. Theme required plugins updated 2. Convertplug plugins updated 3. JS Composer plugins updated. 4. CSS fixed  1.2.7 - 2nd October, 2020 1. Theme required plugins updated 2. CSS fixed  1.2.6 - 3rd September, 2020 1. Theme required plugins updated 2. Header, footer scripts options added in settings 3. Improved alignments 4. CSS fixed  1.2.5 - 21th August, 2020 1. WPBakery Page Builder update 2. Option tree updated. 3. JS console issues fixed 4. CSS fixed  1.2.4 - 18th August, 2020 1. Theme required plugins updated 2. Google fonts issue fixed 3. WP 5.5 compatibility issues fixed 4. CSS fixed  1.2.3 - 3rd June, 2020 1. JS Composer Updated 2. css fixed  1.2.2 - 13th January, 2020 1. JS Composer Updated 2. css fixed