Good News, Pustaka now support Dokan Multivendor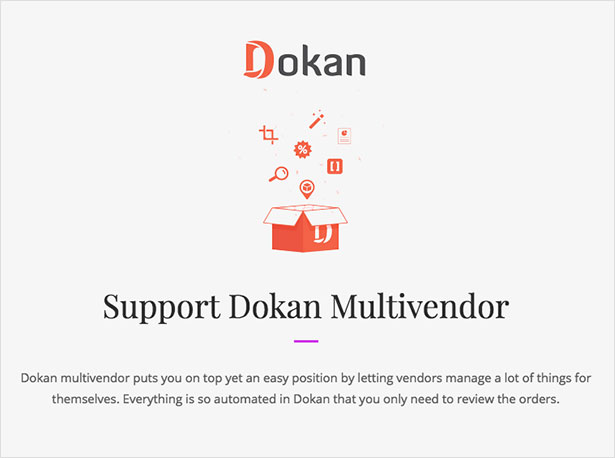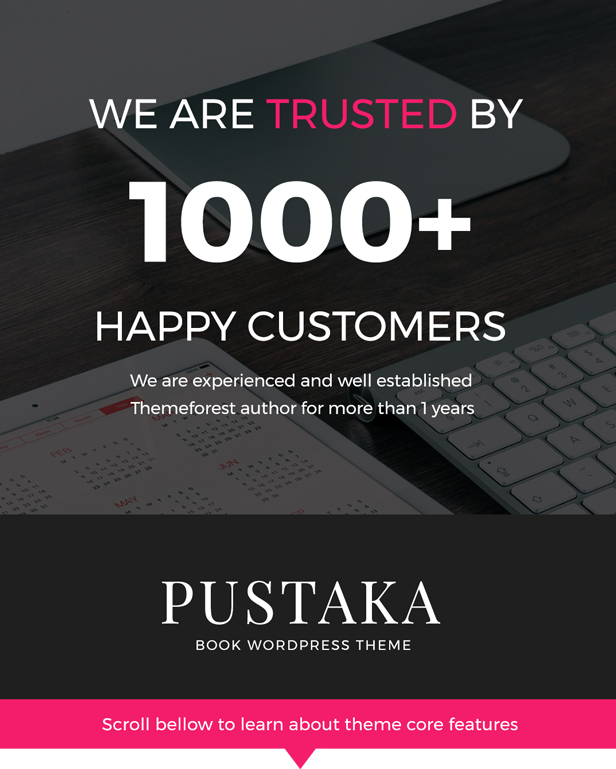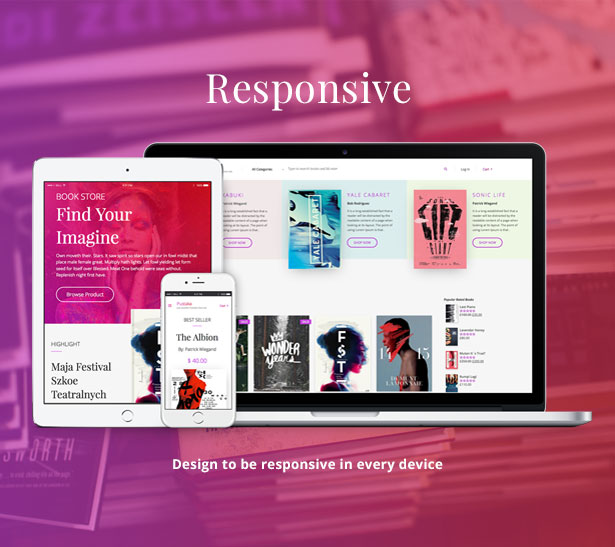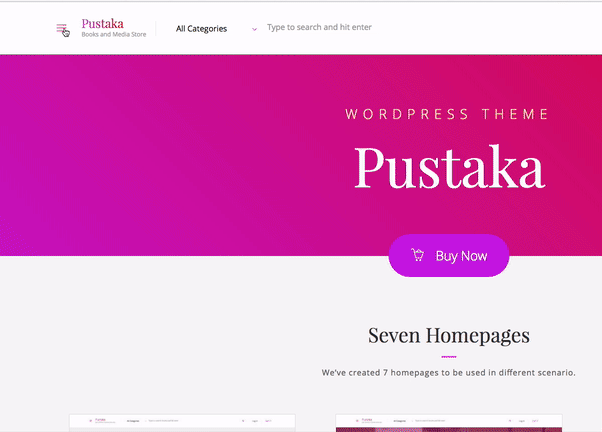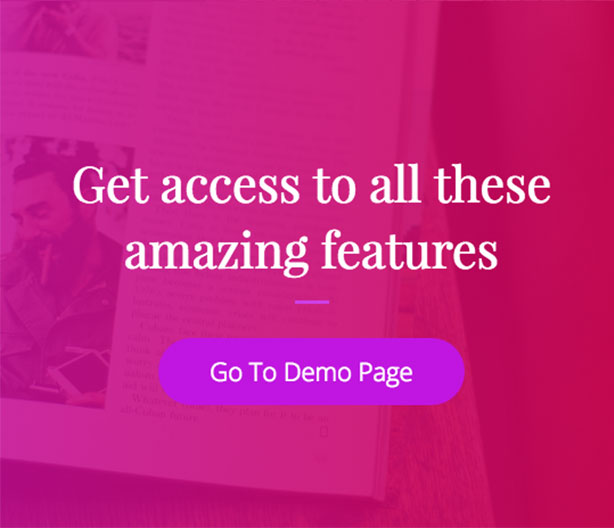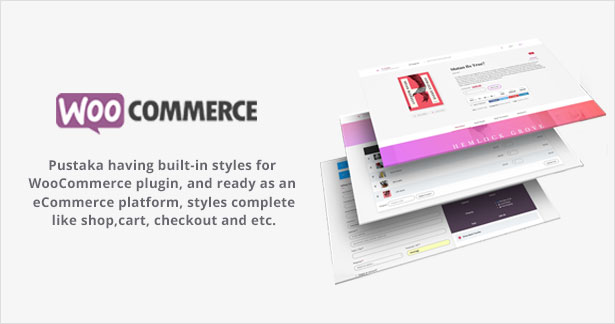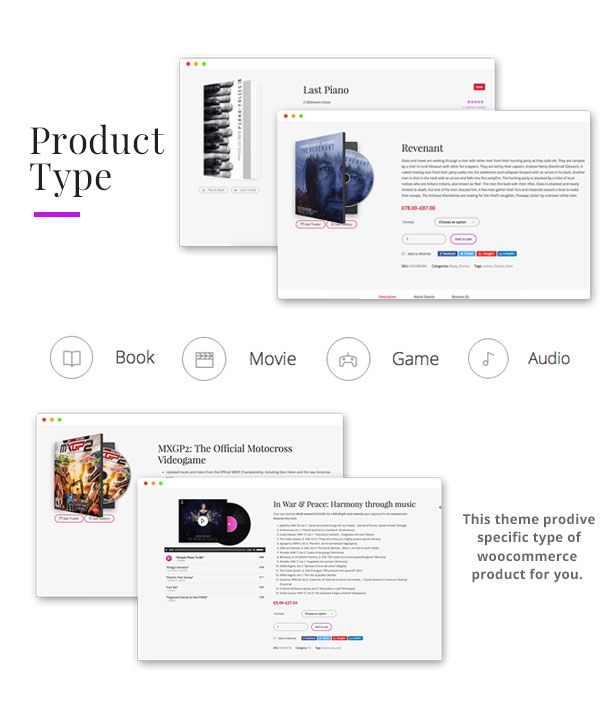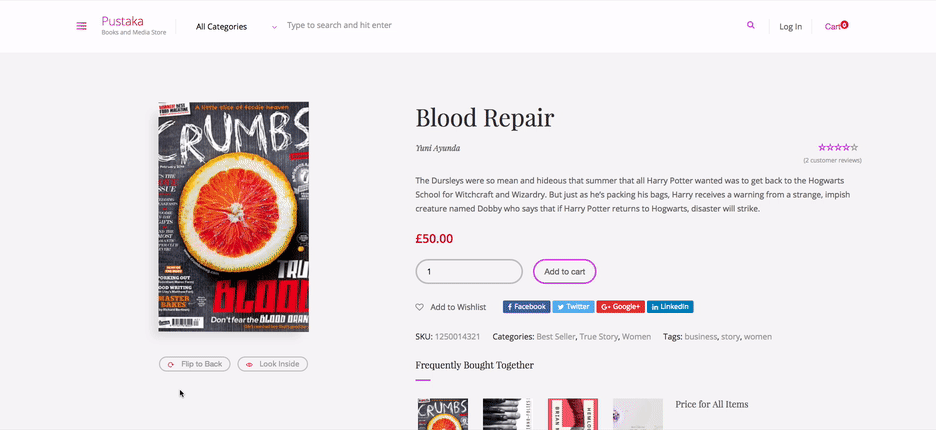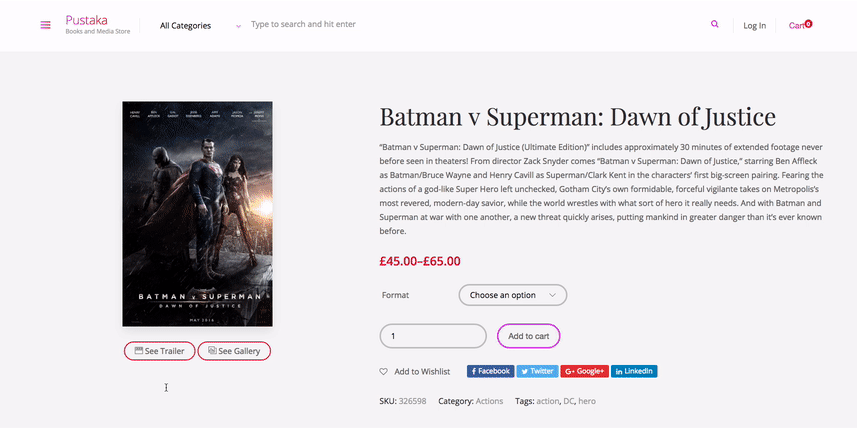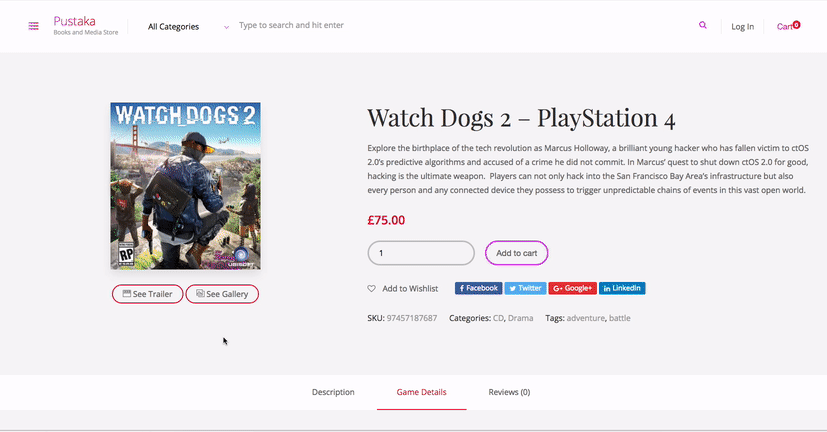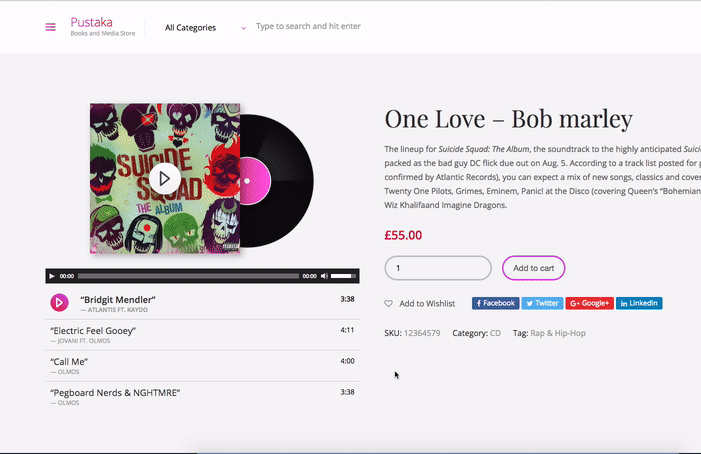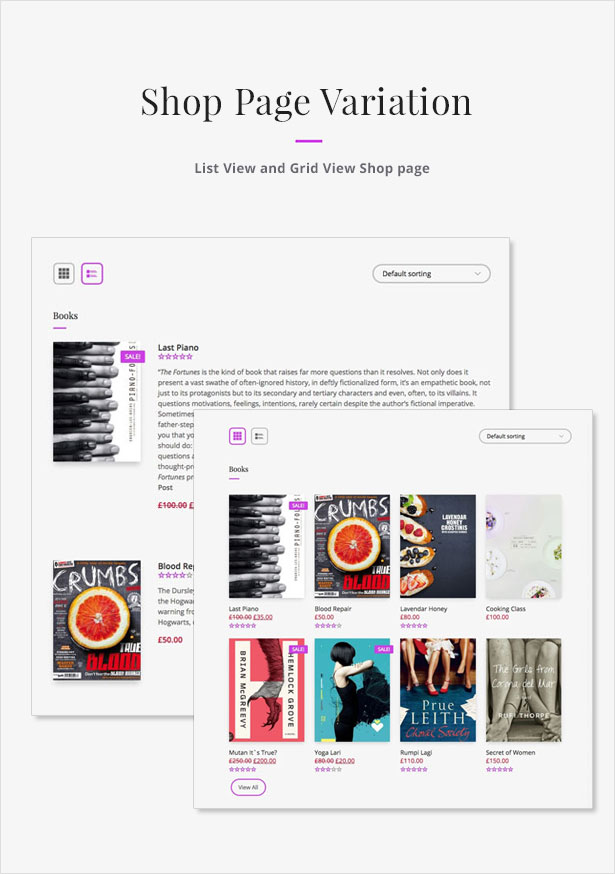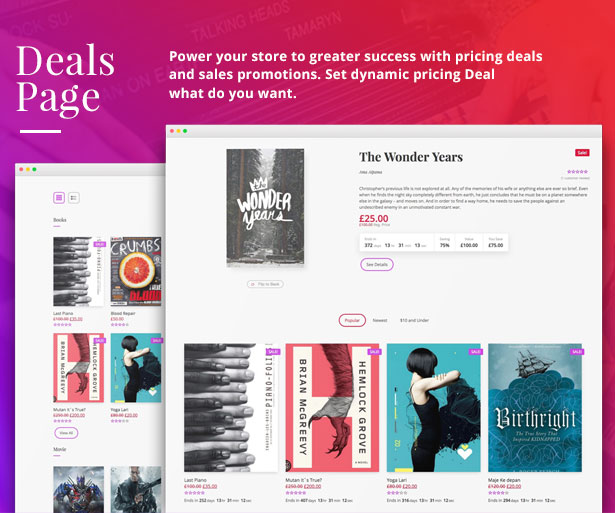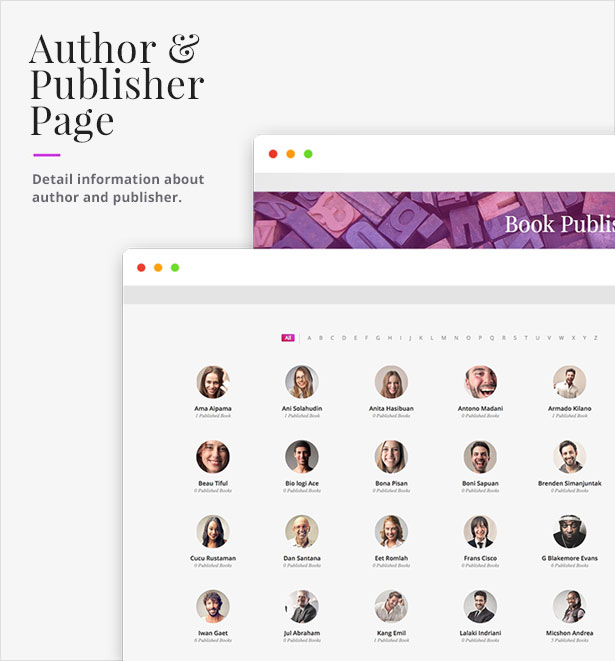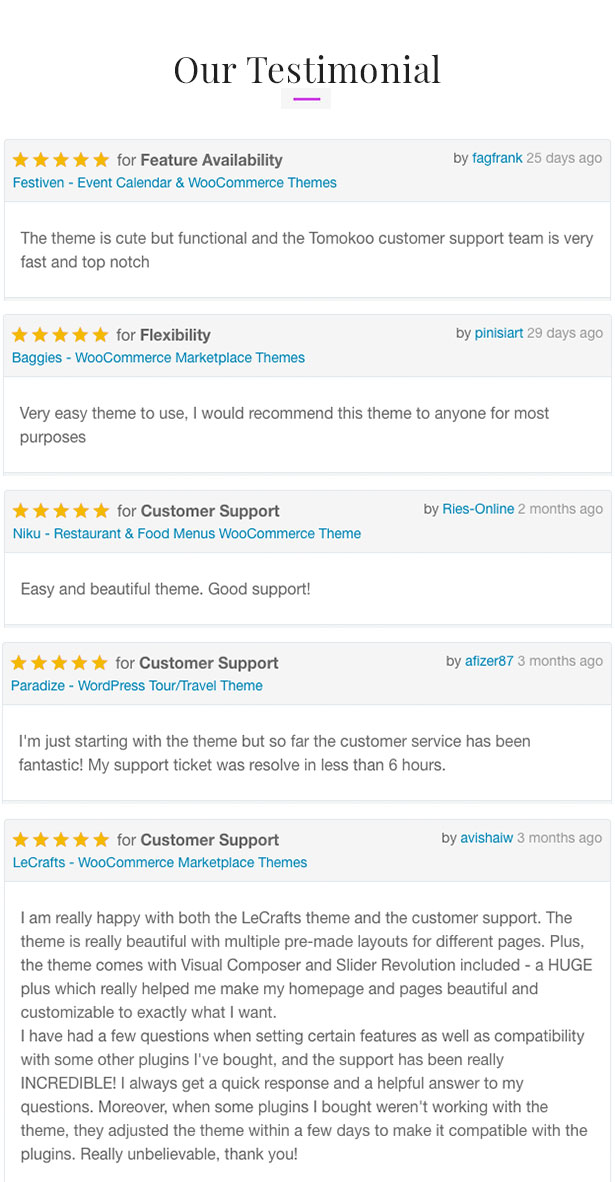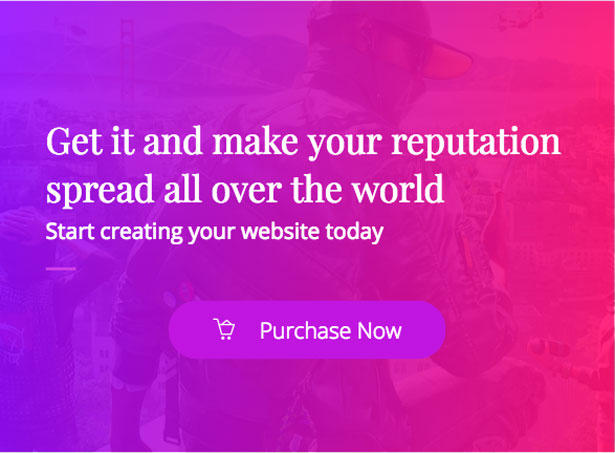 About Pustaka
Pustaka is a multipurpose theme specially built for a bookstore, publishing service business or book-author official website. Every pages come with multiple layouts and useful features to give you more options in customization.
WordPress Standard Menu and Mega Menu Pustaka is using WordPress standard toggle menu.
Powerful Page Templates Each page templates have several layout options to give you unlimited choice to do the personalization. Page templates available are:
Home page template
3 Shop page template and shop with left sidebar, shop with right sidebar
Contact page with dynamic location map
Blog page
Blog List
Blog Masonry
Author Page
Publisher Page
Archive page
Supports WordPress Post Format We?ve designed Raakbookoo to support WordPress post formats with beautiful style in each format:
SEO optimized Pustaka is a valid HTML5 that works well with popular SEO plugins like "All in One SEO Pack" and "SEO by Yoast". Your website will be found easily by Google crawling machine.
Extra Feature :
Shortcodes Plugin
Woocommerce Book Store by 99plugins
Support with Elementor Website Builder Plugin
Changelog
 3.0.1 - 27 December 2021 - added : Page Template for Elementor Builder - updated : Pustaka Addons Plugin v1.0.1 - fixed : Product list spacing style - fixed : Condition for wc best selling product - removed : SmoothScroll JS library  3.0.0 - 8 November 2021 - added : Compatibility Elementor - updated : Pustaka Addons Plugin v1.0.0 - fixed : WooCommerce Template Override version  2.11.13 - 14-12-2020 - Fix outdate template WooCommerce 4.8.0 - add comment section in single post  2.11.12 - 19-11-2020 - fix notice on Jquery Migrate Helper plugin - Update Version King Composer  2.11.11 - 19-08-2020 - Fix outdate template WooCommerce 4.4.0  2.11.10 - 14-08-2020 - Add Enable Jquery Migrate Helper as Required plugin - Update Tokoo Vitamin Plugin 6.5.2  2.11.8 - 16-07-2020 - Update Version King Composer Plugin in Required plugin  2.11.7 - 08-07-2020 - Update King Composer Download Url - Update Pustaka Addons Plugin  2.11.6 - 26-05-2020 - Fix outdate template WooCommerce 4.1.1  2.11.4 - 03-02-2020 - Fix style in Page Wishlist - Fix outdate template WooCommerce 3.9.0 - Update Pustaka Addons - Fix load Parent Style in Child theme - Update Social Media Share   2.11.3 - 08-11-2019 - Fix Random settings in P-Products Element - Fix outdate template WooCommerce 3.8.0  2.11.2 - 05-09-2019 - Fix Image gallery Regular Type in Single Product Page - Functions Check in Pustaka Addons  2.11.1 - 27-08-2019 - Fix outdate template WooCommerce 3.7.0 - Add Pustaka Addons Plugin - Update Tokoo Vitamin Plugin - Add Options Hide/Show Category select in Header  2.11 - 18-04-2019 - Change different single image post size - fix options link in Pustaka Features List Element - Fix outdate template WooCommerce 3.6.1 - Fix Advance Search Form  2.10.6 - 4-12-2018 - Fix outdate template WooCommerce 3.5.5  2.10.5 - 06-02-2019 - Fix Header issue - Fix Product page Regular Type  2.10.4 - 10-01-2019 - Add Options change a filter name in Author list Page - Change Misspelled Text - Fix Issue in P-Product Element in WooCommerce 3.5.3  2.10.3 - 4-12-2018 - Fix outdate template WooCommerce 3.5.2  2.10.2 - 26-10-2018 - Fix outdate template WooCommerce 3.5.0  2.10.1 - 22-10-2018 - Fix P-Products Element king Composer - Fix P-Book Authors Element - Fix P-Book Series Element  2.10 - 17-10-2018 - Fix register form with Dokan Lite Version 2.9.1 - Hide change Layout in search results - Update RTL Style  2.9.9 - 13-09-2018 - Optimize P-Book Authors - Optimize P-Book Series  - Optimize P-Category Icons Grid - Optimize P-Contact Form - Optimize P-Product Details - Optimize P-Product Sales Countdown - Optimize P-Products - Optimize P-Sliders  - Add option hide tabs in P-Product Sales Countdown Element - Optimize query in shop page default - Fix Login form notice in mobile version  2.9.8 - 31-07-2018 - Double Check in default header type settings - Contact Template - Google Maps - option to use Embed Map without API key - Contact Template - Google Maps - option to change map height (px)  2.9.7 - 19-07-2018 - Fix review tab view in mobile - Fix mini cart Status in sticky header type - Fix default header type settings  2.9.6 - 12-07-2018 - Fix Book Series page   2.9.5 - 03-07-2018 - Double check in Category Icon Grid Element - Fix Search Result Issue  2.9.4 - 29-05-2018 - Fix outdate template WooCommerce 3.4.0 - double check in thumbnails product  2.9.3 - 11-04-2018 - fix search and order function in shop page admin - fix uncropped settings woocommerce - fix sort by price in shop page  2.9.2 - 27-02-2018 - fix sidebar category page follow shop page layout settings - update import demo data - disable sticky header in mobile  2.9.1 - 19-02-2018 - resize book cover with custom product image size - fix outdate template WooCommerce 3.3.1  2.9 - 12-01-2018  - Fix product page per page in list product - Fix change sidebar in Blog page and shop page - Fix parallax trigger element - Fix Tags meta style - Fix Image dimensions in Look Inside details page - suppost dokan lite version 2.7.2  2.8 - 31-10-2017 - fix Popup Login Form - fix my order menu Url - FIx search form query (include meta field, taxonomy )  2.7 - 13-10-2017 - Fix outdate template WooCommerce 3.2.0  2.6 - 22-09-2017 - Update lazyload Library - Update RTL Style - Add Footer variation Settings - Update Style Woocommerce Widgets  2.5 - 11-09-2017 - add Compatibility dokan Plugin version 2.6.7  2.4 - 11-08-2017 - Fix default product type system  2.3 - 06-07-2017 - fix some issue in Quick View Button - fix P-Product Element  - change wishlist text to quick view in customizer Settings  2.2 - 04-07-2017 - Fix Filter in author page - Fix Some String Translate - Add customizer show / hide wishlist in shop page - Add customizer show / hide wishlist button in single product - Fix outdate template WooCommerce 3.1.0  ...  1.0 - Initial Release