Promo Offer: Only $79 for a Limited Time! Buy Now!
One time purchase and get lifetime access!
Built on WordPress, Elementor, WP Bakery, Redux, ACF Pro & WooCommerce.
19+ Demo, RTL Versions Included for Arabic & Hebrew Languages.
Built for IT, Software, and Marketing Business Startup.
No Coding Required, Easy Demo Data Import, SEO Optimized.
Regular Updates, Top Quality Support from the Theme Author.
StartNext is a Elementor + WP Bakery Page Builder based Professional WordPress theme. It is created especially for individuals and agencies who provide IT Solutions and Software Services online. The theme contains multiple unique design variations in the home and other pages for the website. Mobile-First Design of the theme looks stunning on all types of screens and devices. Individuals or Agencies who provide Web, Mobile, eCommerce, AI, Machine Learning, Big Data Analytics, or Digital Marketing focused services could love the StartNext theme for their existing or next business website!
The StartNext theme has RTL feature included so, using for Arabic and Hebrew language based website would be quick and easier.
Also, all available forms in the theme are GDPR compliant. It is compatible with WPML, Loco Translate, Yoast plugins.

This theme has WooCommerce Feature, Boxed Layout, well commented and easily customizable source code with detailed documentation. These features will help use the theme and customize it based on the ultimate needs.
StartNext offers a creative and business-focused way to present and promote your initiatives on the web.
Documentation:

For alternate version, please check below:
Angular:

HTML:

Vue.js + Strapi:

React + Nextjs:

Gatsby React + Strapi:

Main Features:
No Coding Required + One Click Demo Data Import
19 Homepage Variations. Click to View Demo
Built with Elementor, ACF Pro, Redux, and WP Bakery Page Builder
RTL Supported
Single+Multi-page Theme
WooCommerce Shopping Cart
Products List, Product Details, Shopping Cart with Payment Features
Multi-Color Homepage Variations
GDPR Compliant
Floating Menu on Mobile Devices
MailChimp Subscriptions
Boxed Layout
Unlimited Typography Option
JS Code Adding From Dashboard
Contact Form 7
10 Types Blog Post
Newsletter Subscription
Responsive in Any Device
Option for Custom CSS and JS Code
Footer Shape Images Hide/Show Option
Paragraph Color Picker Option
Navbar Background Color Picker Option
Sticky Navbar Background Color Picker Option
Footer Background Color Picker Option
Header cart Icon Hide/Show Option
Lazy Loader Option Available
Top Menu Option
Compitable with WPML
Translatable 'projects' & 'services'
Custom Link Option for All Custom post
Custom Preloader Option
Compitable with Yoast plugin
Custom Font Size Option
Blog Posts Meta Hide/Show option
Recent Posts with Thumb
CSS & JS minify Option from Dashboard
Testimonial Slider Infinite Scroll for Single Slider Item
Retina Ready
Creative and Beautiful Layout
Fast, Lightweight & Powerful
Smooth Transition Effects
Integrated with Feather Icons
Domain Availability Checker on Hosting Demo
Awesome Customized Slider
W3 Valid
Well Commented Code
Easily Customizable
Detailed Documentation
+Continuous Improvements…

24-Hour Turnaround Support:
Quick, Dedicated & Professional Support!
We only provide support through our ticketing system. Please submit your ticket by visiting the EnvyTheme Support System.
For any pre-purchase query, please use live chat on the item demo site, email, and the item's comment section on ThemeForest. Thanks!
What do you get?
Theme source code
Elementor Page Builder
ACF Pro
Redux Theme Option
WPBakery Page Builder
Theme custom plugin
One click demo data file for importing into your theme
Online Documentation
Important Note:
After purchasing the StartNext theme then please ensure reading the Online Documentation before starting the installation and setup processes for your website.
Sources and Credits:
Bootstrap
WordPress
Elementor Page Builder
ACF Plugin
Redux Theme Option
WPBakery Page Builder
Owl Carousel 2
Magnific Popup
Animate CSS
Feather Icons
placehold.it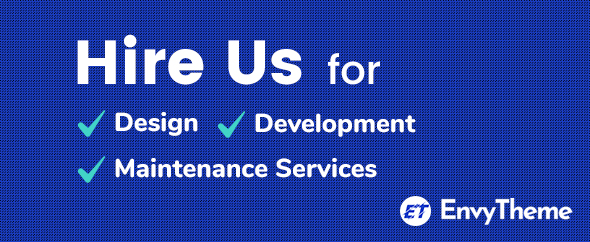 Updates History:
 July 25, 2022: StartNext v4.8 -------------------------------------- - Fixed: Unyson plugin "Backup & Demo Content" extension download issue. - Updated: ACF Pro Plugin Latest File - Updated: WPBakery Page Builder Plugin Latest File -------------------------------------- May 21, 2022: StartNext v4.7 -------------------------------------- - Updated: Redux Framework plugin latest version - Updated: ACF Pro's latest version -------------------------------------- April 2, 2022: StartNext V4.6 -------------------------------------- - Updated: Compatibility with Elementor V3.6.1+ - Updated: ACF Pro Latest File - Updated: WPBakery Latest Version -------------------------------------- November 08, 2021: StartNext V4.5 -------------------------------------- - Fixed: Editing Issue with Elementor Latest Version - Updated: ACF Pro Latest File - Updated: WPBakery Latest File ----------------------------------------- March 24, 2021: Startnext v4.4 ----------------------------------------- - Fixed: Slider issue - Fixed: WPBakery save change button issue - Updated: Latest plugins  Note: Compatible with WordPress 5.7 --------------------------------------------- November 22, 2020: StartNext v4.3 --------------------------------------------- - Added: Text formatting option for services and features cards - Added: Primary menu item link option - Added: Footer column option - Added: Blog width control option - Added: Blog sidebar formatting option - Added: Custom font option - Added: Custom header & footer builder option - Added: MailChimp subscription - Updated: Demo import option with Unyson - Updated: Documentation - Updated: Latest  plugin files - Fixed: Sticky header issue -------------------------------------- September 28, 2020 -------------------------------------- - Fixed: Lazyloader issue -------------------------------------- September 09, 2020: StartNext v4.2 -------------------------------------- Added: Main logo dimensions Added: Mobile logo dimensions Added: Banner title typography option Added: Banner padding option Added: Banner shape background image change option Added: Page shape image hide/show option Added: Menu item typography option Added: Mobile menu Item typography option Updated: WooCommerce affected files Updated: Latest plugin Updated: Link option in the parent menu item ------------------------------------- July 28, 2020 -------------------------------------- - Fixed: HTTP and HTTPS-related issues  - Fixed: License verification issue - Fixed: EnvatoApi2 error issue -------------------------------------- July 23, 2020: StartNext V4.1 -------------------------------------- - Added: Big Data Analytics Demo - Added: About Style Two Page - Added: About Style Three Page - Added: Feedback Page - Added: White Logo Option - Added: A New Header Style - Added: Enable Nav Full Width Option - Added: Menu Item Align Option - Added: Navbar Class Option - Added: Enable White Color Logo Option - Added: Enable Navbar Background Color White Option -------------------------------------- June 28, 2020: Startnext v4.0 -------------------------------------- - Added: Lazy Loader Option - Added: Top Menu Option - Added: Translatable 'projects' & 'services' - Added: Custom Link Option for All Custom Posts - Added: Custom Preloader Option - Added: Compatible with WPML - Added: Compatible with Yoast plugin - Added: GDPR Compliant - Added: Custom Font Size Option - Added: Blog Posts Meta Hide/Show option - Added: Recent Posts with Thumb - Added: CSS & JS minify Option from Dashboard - Added: Testimonial Slider Infinite Scroll for Single Slider Item - Updated: WooCommerce Files - Updated: Documentation in details -------------------------------------- March 22, 2020: StartNext v3.5 -------------------------------------- - Added: 2 New Demos - Added: Custom Posts Permalink Change Options - Updated: WooCommerce Compatibility Files - Updated: Latest Plugins Version -------------------------------------- March 07, 2020: StartNext v3.3 -------------------------------------- - Updated: Plugins Version - Fixed: Blog Search - Fixed: Menubar Responsive Issue -------------------------------------- February 03, 2020: StartNext v3.2 -------------------------------------- - Updated: WooCommerce Files - Fixed: Footer Copyright text HTML and Allowing Shortcodes -------------------------------------- January 20, 2020: StartNext v3.1 -------------------------------------- - Added: Machine Learning Demo - Updated: Elementor and ACF Pro version -------------------------------------- December 20, 2019 -------------------------------------- - Added: Headroom js support -------------------------------------- November 28, 2019 -------------------------------------- - Fixed: Features box notice - Fixed: About area notice  - Fixed: Banner image issue -------------------------------------- November 19, 2019: v3.0 -------------------------------------- [Note for the existing customer: Please make sure you take your website backup before upgrading your website with StartNext v3.0]  - Added: Elementor Page Builder - Added: ACF Plugin - Added: Redux Theme Option - Added: ACF: Font Awesome Field Plugin - Added: Unlimited Typography Option - Added: Option for Custom CSS and JS Code - Added: Footer Shape Images Hide/Show Option - Added: Paragraph Color Picker Option - Added: Navbar Background Color Picker Option - Added: Sticky Navbar Background Color Picker Option - Added: Footer Background Color Picker Option - Added: Header cart Icon Hide/Show  Option - Updated: Demo Import Option - Updated: Social Link Option - Updated: StartNext Toolkit Plugin - Updated: 404 Page Option - Updated: Theme Documentation - Removed: CMB2 Plugin - Removed: CMB2 Field Type: Font Awesome Plugin - Removed: Google Typography Plugin -------------------------------------- November 14, 2019 -------------------------------------- - Update: WooCommerce Code updates - Update: WP Bakery plugin version update  -------------------------------------- September 18, 2019 -------------------------------------- - Added: New Demo for Digital Agency  - Fixed: Product Search Issue on the Shop page -------------------------------------- August 6, 2019 -------------------------------------- - Added: Domain Availability Checker on Hosting Demo -------------------------------------- July 26, 2019 -------------------------------------- - Fixed: A Bug Related to WooCommerce has been Fixed -------------------------------------- July 17, 2019: v2.1 -------------------------------------- - Added: IoT Demo - Added: PC Repair Demo - Added: Shopping Cart Icon on Menu bar -------------------------------------- June 28, 2019: v2.0 [Big Update] It is a big update! If you already purchased the StartNext theme, before updating from StartNext v1.3 to StartNext v2.0, make sure you take the entire website back up so that if there are any issues you face, then easily can revert to your original site. -------------------------------------- - Added: Hosting startups demo - Added: Floating menu for small screen devices - Added: WooCommerce feature support  - Added: Custom post created for features and services - Added: Single page added for features and services - Added: Multi-layered menus - Added: Blog column number select from theme options - Added: Changing the logo and favicon from the theme options - Updated: Online documentation -------------------------------------- May 28, 2019: v1.3 -------------------------------------- - Added: GDPR Compliant - Added: JS code adding option from the dashboard - Added: Typography option - Added: Extra class name field has been added in all add-ons - Added: Boxed layout -------------------------------------- May 20, 2019:  -------------------------------------- - Updated: Enabling to use of an image by changing dynamically in the Lead homepage (Brink Pink Color)  -------------------------------------- May 19, 2019: v1.2 -------------------------------------- - Added: RTL  - Fixed: Mobile design issue -------------------------------------- May 15, 2019 -------------------------------------- - Updated: Mobile view design updates -------------------------------------- May 13, 2019 -------------------------------------- - Added: Animation added in mobile view -------------------------------------- May 10, 2019 -------------------------------------- - Added: New 8 Homepage demos added