Intro
TOUCH is the 4th in a series of mobile WordPress themes from Bonfire Themes and is intended for use on smartphone and/or tablet devices. Set it up as a secondary theme and display it only to mobile visitors, or set up a brand new WordPress installation; the choice is yours.
TOUCH may look light and airy but, as can be seen on the features list below, it's a mobile theme with plenty of features in tow and can be used for many purposes; set up a straightforward blog, an optional static front page, a touch gesture-enabled gallery, or even a portfolio. Also included is a unique comment form, plus a slider, shortcodes and so on.
Testimonials
You'll always have our promise of excellent support which is something we're massively proud of. But instead of taking our word for it, please see below for just a taste of the praise those who've purchased this theme have kindly sent our way: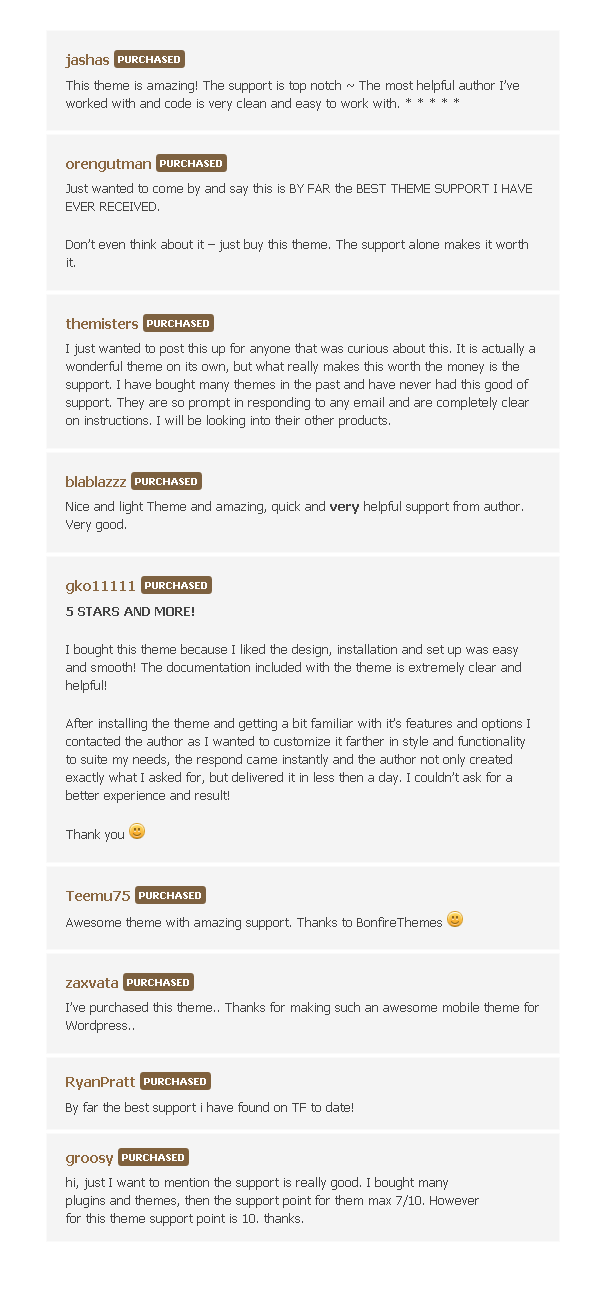 Thoroughly tested
TOUCH is a thoroughly tested theme. iPhones and iPads, Android and Windows devices, even desktop browsers. It works everywhere. Should you use it as such, it can even function as a full-blown desktop site.
Works alongside your existing desktop theme
TOUCH works alongside your existing desktop theme and can easily be shown to your mobile and/or tablet visitors only.
Extensively customizable header & navigation ($26 value)
The menu header & navigation system included in the TOUCH theme is our popular Touchy menu for WordPress. With years of user feedback and extensive development behind it, Touchy is arguably the best mobile menu available for WordPress today.
Loading screen and progress bar ($26 value)
TOUCH also includes our PageLoader plugin for WordPress. Like Touchy, it is probably the best and most extensively customizable plugin of its kinds available for WordPress anywhere.
Gesture-enabled gallery: swipe, pinch and zoom
When it comes to galleries, we made sure TOUCH works well with PhotoSwipe, the popular touch-enabled gallery system which integrates absolutely seamlessly with WordPress. Let your visitors swipe, pinch and zoom their way through your images!
Theme features:
unique and super clean design
multi-level accordion menu
back, call, email buttons in the header (extensively customizable Touchy header and navigation system)
incredibly customizable loading screen and progress bar
integrated share buttons for Twitter, Facebook and Pinterest (no setup necessary!)
ready for translation/localization (.pot file included)
tested on several browsers across multiple operating systems and devices (Chrome, Firefox, Edge, Safari, Opera, iOS, Android, Windows Phone)
unique, subtly animated comment form
fully responsive liquid design that works beautifully on desktop, tablets and smartphones (everything from forms and fields to menus and embedded content is automatically resized to ensure your site looks its best on whatever device and resolution it's being viewed on)
beautiful and subtle use of animations
gesture-enabled gallery (PhotoSwipe)
multiple page templates allowing for formatting of content (no title, centered title, back button, and combinations thereof)
a ton of customizable shortcodes (alerts, dividers, buttons etc).. plus shortcodes for YouTube, Vimeo, DailyMotion.. and shortcodes for easily placing content in columns (text, images, as well as video)
extensive documentation
ready-to-edit child theme included
Custom work
We hope that what we've created suits your needs! Should you need to customize the theme beyond, we also offer affordable customization services and super quick turnarounds. Do feel free to get in touch if you have any inquiries!