Boutique Kids is a sweet and graphically detailed design. It features a vintage styled curved border, flag on the menu, hanging boxes for your header information and lots of different side bar shapes. This theme is perfect for any clothing store, toy shop, kids, family, creative, children's or art themed website.
Boutique Kids Creative is a unique Premium WordPress theme that is easy to setup and comes with a great set of features. We use the Elementor Visual Page Builder to make adding/changing your content super easy. Boutique Kids is compatible with the professional WooCommerce e-Commerce system which means it's easy to start selling products in no time. All graphics included; there's nothing else to buy.
Latest Update: Version 1.23.11 on 2017-06-13.
Boutique Kids Creative is a unique Premium WordPress theme that is easy to setup and comes with a great set of features. This theme is perfect for any clothing store, toy shop, kids, family, creative, childrens or art themed website. Boutique Kids is compatible with the professional WooCommerce e-Commerce system which means it's easy to start selling products in no time.
WordPress 4.8 compatible!
Brand new easy installation wizard watch the video to see how great this really is. No messing about with tricky settings, just click a few buttons and you're up and running like the live demo.
Retina Ready graphics
Creative and very easily Customizable Design
No complicated frameworks if you need to do advanced changes it will be easy
Easy sidebar manager (left/right/footer widgets)
Fancy blog post shortcode layout: example
Google Font Selector
Easy image slider: example
Professional e-Commerce option with WooCommerce
Responsive CSS Layout iPhone and Tablet friendly (can be disabled so full site shows on mobile)
LESS files included for some of the CSS files (optional)
Four great default gallery styles: example
Google Map button shortcode easily insert a Google Map onto any page: example
Horizontal and Vertical icon box: example
Opening hours widget: example
Social icons widget: example
Contact Forms through ContactForm7 plugin: example
Easy theme customisations
5 different styles for sidebar widget areas
Full Documentation provided check it out!
Straight forward CSS and HTML markup making it easy for more advanced users to customize
Default content included so you can get up and running like the demo site in no time (watch the video to see how easy it really is)
 
This creative WordPress theme comes with easy to use shortcodes:
Columns: Insert columns of various sizes.
Line Dividers: Insert a bird, heart, circle or rounded rectangle divider line with a click of a button.
Google Map: Insert a Google Map onto any page (or sidebar) with no code knowledge at all.
Icon Boxes: Choose from over 200 icons, pick your color and create great looking page layouts with these easy to use icon boxes.
Enhanced Gallery View: The WordPress standard gallery has been improved so you get a better view of what your gallery will look like when editing the page. Comes with 4 custom gallery styles.
Fancy Text Banners: Easily create a banner with a title, text and action button (see home page of demo for example).
(example of easy to use WordPress Banner shortcode. Just click and type, no code!)
(easily insert fontawesome icon boxes, select any icon and choose a color)
 
Change font styles, colors, sizes, page layouts, logo and more from one easy to use area. Preview your changes before going live!
 
This theme is responsive for Desktop, Mobile and Tablet. (responsive can also be disabled in settings if you need to).
 
This theme comes with a unique and easy to use Sidebar Manager. Easily control if sidebars appear on the left or right of your pages, or hide them all together. Simply navigate to the page you wish to change (eg: the home page) and change the option from the top admin bar.
You can even choose which sidebar to display on individual pages. A great feature for getting that unique looking website. Below is a preview: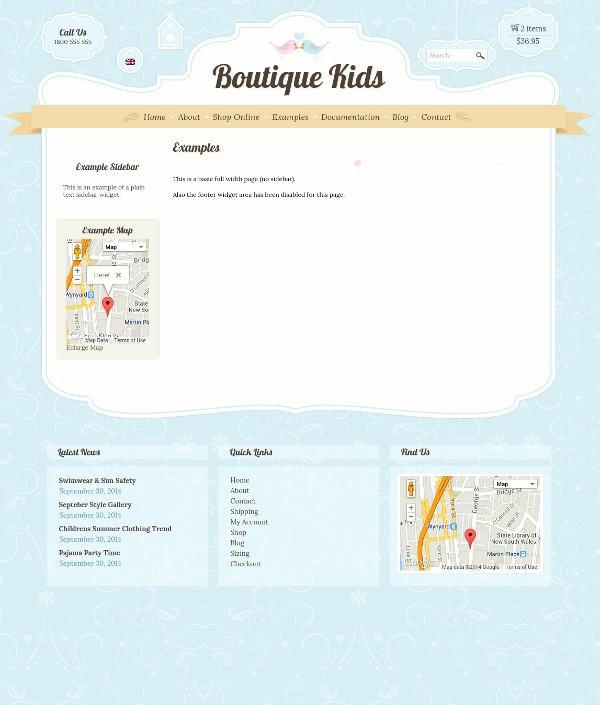 You can also control the background style of any WordPress widget. Hint: use 'default' option for footer widget items.
This theme is compatible with the very popular free WooCommerce plugin. WooCommerce allows you to easily and professionally list your products for sale and manage you website orders. Here are some of the features:
Sell physical, digital and virtual products
Multiple images per product
Simple, grouped and configurable products
Discount coupon management
Automatic related products
Product reviews
Tax by location
Currency options
Multiple shipping options
Layered product navigation
Customer account area
Inventory tracking
Detailed order management
Product import / export
Custom widgets recent / featured products, shopping cart, product search
PayPal standard
Moneybookers / Skrill
Cheque payments
You can read more about WooCommerce at http://www.woothemes.com/woocommerce/
Photoshop Files Included
Web designers: Photoshop files are sliced and ready to go.
Quick Setup Guide:
New to websites? Here are the steps you need to follow to get up and running with this website theme.
Purchase a "domain name" (e.g. yourbusiness.com)
Purchase "WordPress website hosting" (hosting is the computer server that runs your website and emails 24/7)
Some popular providers for domain names and hosting are: BlueHost, DreamHost and WPengine. Generally the more you pay the faster your website will load.
Talk to your chosen hosting provider to setup your "WordPress" and make sure it works. You should be able to login to your "WordPress Dashboard" with a username and password.
Once you are at this point, come back here and purchase this WordPress theme.
Once purchased, go to http://themeforest.net/downloads and press "Download" and then "Installable WordPress file only". This will download a small (less than 20MB) zip file to your desktop.
Login to your WordPress dashboard, go to Appearance > Themes > Add New > Upload and choose the ZIP file you just downloaded.
After uploading the theme to WordPress choose the "Activate" option
Follow the setup wizard steps.
Requirements
Some basic knowledge on how to use WordPress
WordPress 4.8 or above running on your website
The ability to install WordPress themes and plugins
Advanced Changes: you will need good PHP/CSS/HTML knowledge or be prepaired to hire someone from Envato Studio to perform advanced modifications for you.
Documentation
Full documentation for this theme is available by clicking here: Boutique Kids WP Theme Documentation. Please read the documentation before purchase to ensure all the features meet your requirements. Feel free to ask any questions if something is not clear.
We also have an installation video, watch how easy this theme is to setup: Click Here
Elementor Page Builder
This theme is comatible with the Elementor page builder. Elementor is a very powerful and very good WordPress page builder. Using Elementor will help you design amazing looking pages very quickly and easily.
More details about the Elementor page builder are here:
Read the documentation available here: https://docs.elementor.com/
Watch the Videos on Youtube here: https://www.youtube.com/channel/UCt9kG_EDX8zwGSC1-ycJJVA
Stay up to date on the latest new features via Facebook here: https://www.facebook.com/elemntor/
Upgrading to Elementor Pro
This theme is compatible with the Free version of Elementor. It is already extremely powerful, but you can take it to the next level by purchasing the 3rd party Pro version. For a small extra fee you get access to great new features such as: Form Builders, Slides, Portfolio, Global Widgets, Custom CSS, Pro Pre-Made Templates, WooCommerce addons, Flip Box, Masonry Layout, Share Buttons and much more.

To find out more and to purchase Elementor Pro please click here: https://elementor.com/
Support
 
We hope you enjoy this theme, we had a great time making it. Thanks!
Changelog:
Here is a list of theme changes:
Version: 1.23.11
Date: 2017-06-13
WordPress 4.8 update
Version: 1.23.10
Date: 2017-05-01
WooCommerce fixes
Version: 1.23.9
Date: 2017-04-24
WooCommerce update
WordPress update
Version: 1.23.8
Date: 2016-11-08
Two column layout fixes
Version: 1.23.7
Date: 2016-11-02
Two column layout fixes
Version: 1.23.6
Date: 2016-10-12
Elementor page builder support
Version: 1.23.5
Date: 2016-09-12
Support for WordPress 4.6.1
Elementor page builder support
New menu and border color options
New PSD documents
Version: 1.23.4
Date: 2016-08-15
Google maps fix
Version: 1.23.3
Date: 2016-06-11
Zoom CSS fix
Version: 1.23.2
Date: 2016-03-28
Logo configuration options
Version: 1.23.1
Date: 2016-03-17
Latest WordPress version fixes
Default content improvements
Version: 1.22
Date: 2015-07-22
WooCommerce template update and gallery fix
Version: 1.21
Date: 2015-07-05
prettyPhoto fixes
Version: 1.20
Date: 2015-06-24
WordPress 4.2.2 support and gallery fix
Version: 1.19
Date: 2015-05-24
WordPress 4.2.2 support
Version: 1.18
Date: 2014-12-19
updated social plugins
Version: 1.17
Date: 2014-12-05
fix for child themes
Version: 1.16
Date: 2014-12-05
fix for google fonts
Version: 1.15
Date: 2014-11-26
woocommerce product column layout fix
Version: 1.14
Date: 2014-11-19
footer css fix in widget area
Version: 1.13
Date: 2014-11-15
view full site button added to mobile menu
Version: 1.12
Date: 2014-11-12
esc_attr fixes
Version: 1.11
Date: 2014-11-03
css fancy blog fix